Aloha Adventure
Page 01
Here we go again! Mary Ann and I have headed to Hawaii this time with 25 Collette/AAA travelers to see the islands.  Our trip lasted 10 days from October 25th to November 3rd, 2018.
We had a lot of help setting up this trip from Elise Ring of AAA Portsmouth, NH. 
Thanks Elise!

We started from our home in The Villages, FL and we flew out of Orlando to Dallas, TX and on to Honolulu, HI, The trip took 12 hours of flying over a 16 hour time period.
You'll noticed some fuzzy pictures and some clear pictures. A lot of this blog was cribbed from many different sources: my crappy camera, the internet, my iPhone, postcards, etc. 
All the screwy stuff is my fault!
Here is a map of our flights: After our 3 days on O'ahu we flew to Kaua'i for 3 more days then to Maui for our final 3 days.
,
This is us getting leied when we arrived at the airport in O'ahu. Notice my Boston Red Sox cap. They had just won the World Series and I received a lot of "How 'bout them Sox!" comments.
This is Waikiki Beach with Diamond Head in the distance.
We were pooped after our journey to Hawaii so we sat for a while on Waikiki Beach and watched the surfers.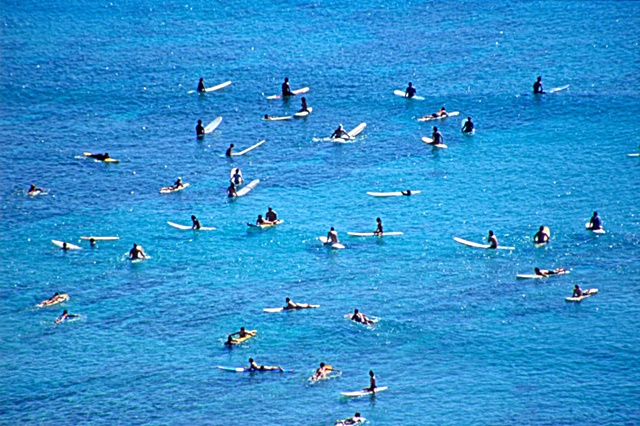 There were dozens and dozens of surfers just offshore waiting for a wave. They would gather at dawn and stay until dark!
We decide to call it a day so we we went to Burger King for their "2 for" deal and then hit the hay to deal with our jet lag.
But before hitting the hay, I slipped down to the pool and got into the hot tub and then the pool. This was a throwback to my Maine "Rats Ass Club" routine.