Aloha Adventure
Page 04
After another nice breakfast (and a nice lunch bag), our group took our bus to the airport near Honolulu.
I haven't mentioned much about our group. This is because we didn't have much interaction with them.  On previous group tours we usually  sat with our fellow travelers at meals. At all the hotels on this trip we were escorted to a table and usually ate alone. Hence, no "getting to know you"conversations so I have not included their names or pictures. Too bad!
The one person we had a lot of chats with was Carol, our great Tour Manager.  She was a sweetheart! Of course, wife Mary Ann is a sweet heart, too.
On our way to Waimea we stopped at this place for lunch. I had the ribs. they were so-so. I should have eaten my hotel sandwich…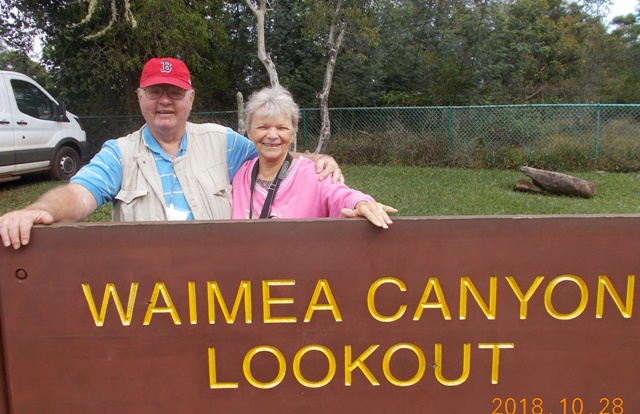 After lunch we took another long drive to this place.
Nicknamed the Grand Canyon of the Pacific, the Waimea Canyon is a large canyon, about ten miles long and up to 3,600 feet deep carved by the Waimea river.
Note the upper and lower falls in the left of the top picture.  This was quite far away and there was a steady stream of tour helicopters coming up the valley and circling the falls.  It was a major attraction!
Formed by erosion from the Waimea River, this spectacular canyon boasts a colorful array of red, brown and green hues which are complimented by waterfalls and frequent rainbows.
This is the logo of the Kaua'i Coffee Company where we next stopped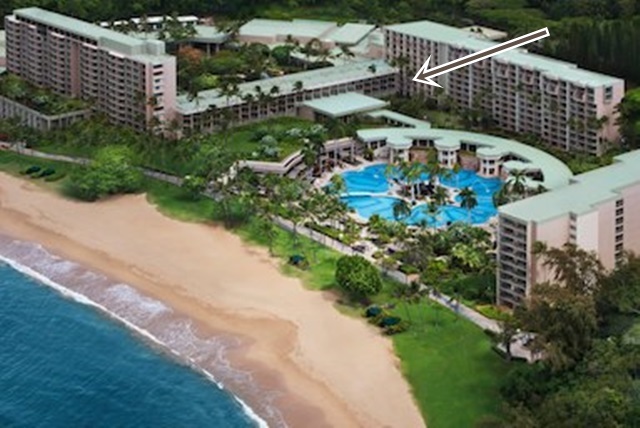 .  I think it is much sexier than the Maxwell House "Good to the Last Drop" logo.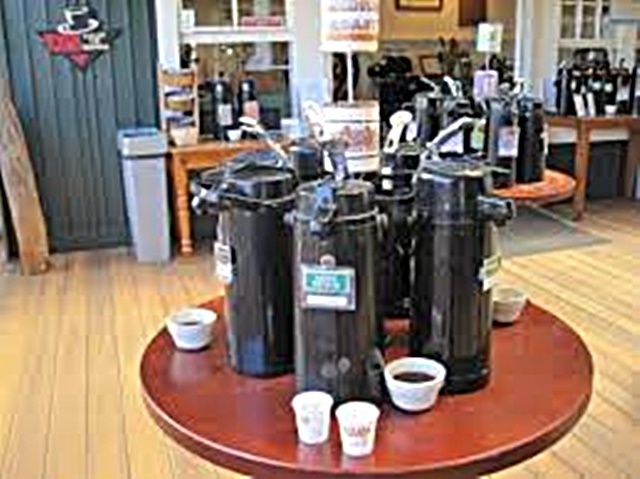 This is the tasting room. There were carafes everywhere and you could taste them all. I tried the decaf. A note next to that carafe said that the coffee was sent to California to be decaffeinated.   What??
This place was a real coffee plantation.  You could walk around the trees and see the actual berries. The red ones (called cherries) are ripe and must be manually picked so as not to disturb the unripe ones.
Unfortunately Juan Valdez has retired and he has been replaced by a mechanical harvester which means that a lot of unripe and over ripe berries make to to the roasters.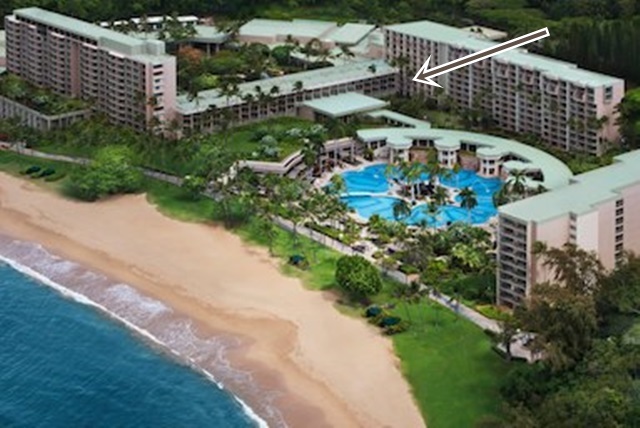 Our room location.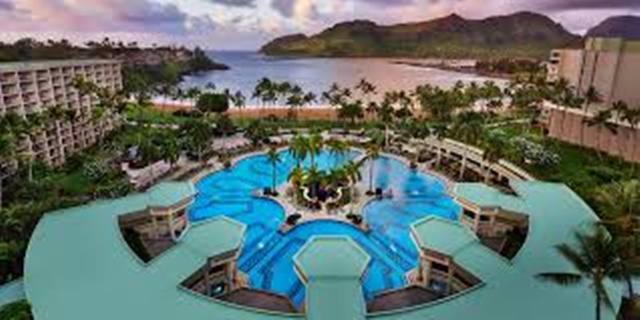 Here is the The Kaua'i Marriott Resort and a view of the pool and the bay beyond. There were 5 hot tubs. Wahoo!
This is Kukui's dining area. We ate dinner there in the evening of our arrival and breakfasts every day. The dinner was so so, but the breakfast buffet was super (think: lunch sandwiches). We had dinner with 3 other couples that night and we were starting to get to know our fellow travelers.
Incidentally, Kukui is a tree. It's also known as the Candle Nut tree.  In ancient Hawaiʻi,  the nuts were burned to provide light. The nuts were strung in a row on a palm leaf midrib, lit on one end, and burned one by one every 15 minutes or so. This led to their use as a measure of time. Hawaiians also extracted the oil from the nut and burned it in a stone oil lamp called a kukui hele po (light, darkness goes) with a wick made of kapa cloth.
Hawaiians also had many other uses for the tree, including: leis from the shells, leaves, and flowers; ink for tattoos from charred nuts; a varnish with the oil; and fishermen would chew the nuts and spit them on the water to break the surface tension and remove reflections, giving them greater underwater visibility. A red-brown dye made from the inner bark was used on kapa (cloth) . A coating of kukui oil helped preserve ʻupena (fishing nets), etc/, etc…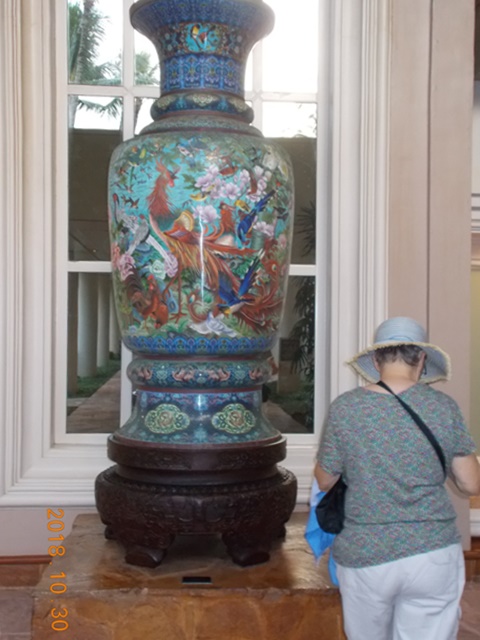 There were many interesting things to see in the hotel. Including a huge, beautiful cloisonne Chinese vase. On our trip to China, we saw how they were made and how valuable they were. This one was super nice and it was hard to believe it was just sitting there.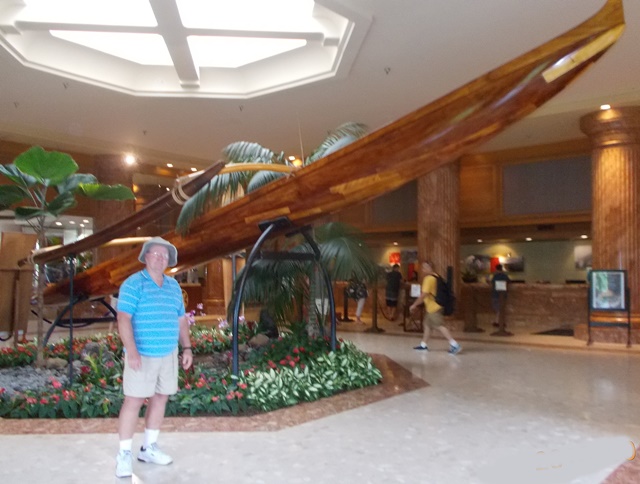 Also, there was a restored ancient outrigger canoe. Very nice work!
The lobby Koi Pool.
We tested our masks and snorkel stuff in the pool (not the Koi Pool) in anticipation of a snorkel swim in the ocean.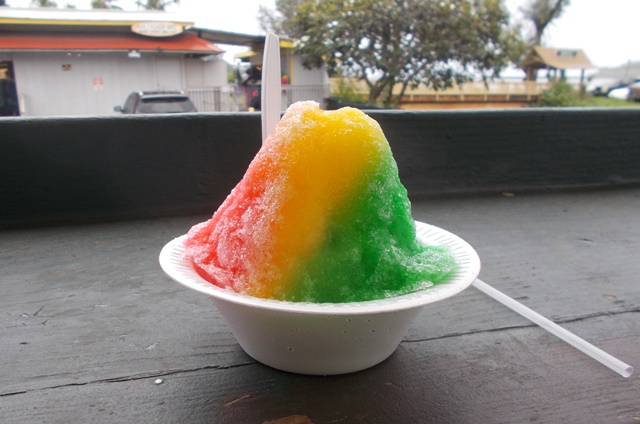 After a dip, I decided to take a walk to town to get a Shave Ice. We were given coupons for 2 free ones. Luckily, there was a Shave Ice place on Kalapaki Beach right next door to the hotel. It's like an Italian Ice only sweeter and you have  your choice of syrups. I chose lime, mango, and watermelon.  Yummie!
I'm not sure what this guy was selling, but he was colorful and had an attitude! (PS I think he sold tee shirts.)
And so to bed…