The Best of the Canadian Rockies
Here we go again! Mary Ann and I headed to western Canada this time with 41 Grand Circle Travelers (GCT) to see the Rocky Mountains.  Our trip was from June 10th to the 24th, 2016.
We started in Wells, Maine; took the Downeaster to Boston; took Air Canada through Toronto to Calgary, Alberta to start our journey (This was Day 1).
You'll noticed some unusual underlining and some unusual pictures. A lot of this blog was cribbed from many different internet sources.  All the screwy stuff is my fault!
Here is Suzanne Goyetche (assisted by Mary Ann).   Suzanne is our Program Director and our "Mother Hen" outlining out trip.
This is an enlargement for easier reading. The route we took is shown by the red arrows and the nights spent in each location is in the black dots. Some of our stops are show by the little triangles:
We started Day 2 with an unscheduled 20 mile side trip to the town of Cochrane, AB. This is Suzanne's home town (after moving here from New Brunswick, Canada).
Cochrane is on the Bow River which flows from the Rockies through Calgary to join many other rivers and on to the Hudson Bay. It is prone to flooding and has inundated Cochrane and Calgary in recent years.
Here is a hilltop view of Cockrane with a glimpse of the snowy peaks of the Rockies in the far distance.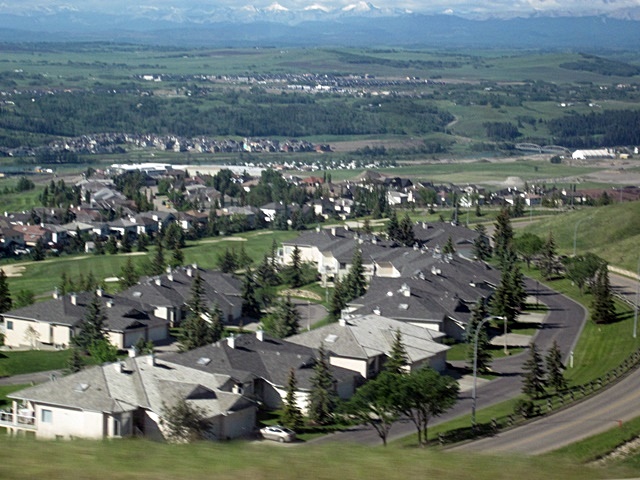 Suzanne introduced us to her sheep dog "Cache".  She  really loves Cache and has taught him many tricks – which she demonstrated for us. Cache was a bright, alert and nimble fellow.
In 2003, the Cochrane Centennial Committee commissioned Studio West Bronze Foundry and Art Gallery to create a bronze sculpture honoring the hard working pioneer women who were involved in the dairy business. The statue was placed on First Street across from the Rockyview Hotel and there are around 40 names of Cochrane area women inscribed at the base of the Legacy Statue. As she appears to be feeding chickens, with a milk can at her side, many people have been known to call her "the chicken lady", but who is she really? Her name is Ella Patton and she  and her family came to Alberta in 1900 from Alta, Iowa.  Google her name for more info.
 Nestled at the foot of Big Hill in the Bow Valley west of Calgary, the Cochrane Rockyview Hotel and its saloon are among the oldest establishments of their kind in Alberta that are still standing and in operation.
During Alberta's early years, it was illegal in many municipalities for men and women to "consort" with each other while consuming alcoholic spirits.  They would climb in their horse and buggy, or take the train, or, if they were lucky, drive one of them new-fangled automobiles a few miles west to Cochrane for a little company with the opposite sex over a cold drink.  Sometimes this sinful activity would lead to dancing or singing and the couples would stay late into the night, before heading back to Calgary or upstairs to a Hotel room.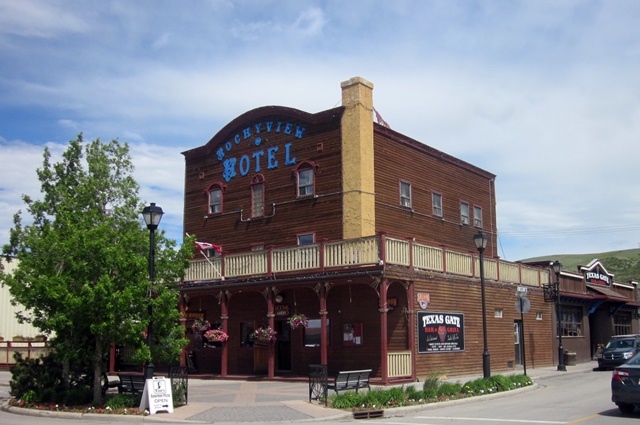 Across the street is Mackay's Ice Cream.  Passionate family commitment and a delicious recipe have paired to make Mackay's Ice Cream a great Cochrane tradition for over 65 years. Deep-rooted in its geography, Mackay's Ice Cream is made in Cochrane with 100% Canadian high butterfat cream.

No, we did not try a scoop – too rich and expensive! We ate at a Subway…
One final historic statue: This statue is of a cowboy on horseback overlooking the Cochrane Ranch Historic Site. It was commissioned in honor of the working cowboy of the early ranching days in the area.
Enough about Cochrane.  Lets get back to Calgary.
Calgary is a cosmopolitan Alberta city with numerous skyscrapers, owes its rapid growth to its status as the center of Canada's oil industry. However, it's still steeped in the western culture that earned it the nickname "Cowtown," evident in the Calgary Stampede, its massive July rodeo and festival that grew out of the farming exhibitions once presented here.
We're told that many of the high rise buildings are corporate offices and hotels.  Many of the others are residences for the city's office work force.
Below is the Calgary Tower.
The Tower is a 627 ft free standing observation tower  Originally called the Husky Tower, it was conceived as a joint venture between Marathon Realty Company Limited and Husky Oil as part of an urban renewal plan and to celebrate Canada's centennial of 1967. The tower was built at a cost of $3,500,000 and weighs approximately 10,900 tons, of which 60% is below ground. It opened to the public on June 30, 1968 as the tallest structure in Calgary, and the tallest in Canada outside of Toronto. It was renamed the Calgary Tower in 1971.
The Petro-Canada Center's west tower overtook the Calgary Tower as the tallest structure in Calgary in 1983. Until 2011, this 706 ft skyscraper was the tallest building in the city, while the twin-towers of Bankers Hall, completed in 1989 and 2000 have also surpassed the Calgary Tower. The Bow, completed in 2012, is now the tallest building in Western Canada at 779 feet.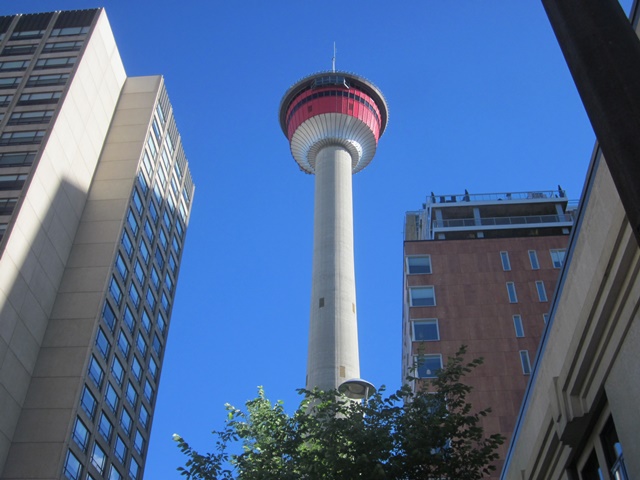 This is the Bow Building.  It's one of the few buildings in Calgary that, to me, has some character. (Note: The flat prairie in the distance.)
A little more down to earth were the food trucks that were parked on a street close to our nice Sheraton Hotel.  There was some sort of a "do" going on, but the food trucks seemed to be the big hit.
We hung out here on a GCT "afternoon on our own". A special feature of the GCT's itineraries (which means "no cost to GCT".)
We ended the day at Saltlik's restaurant with a delicious CAB (Certified Alberta Beef) steak: Tender and Juicy!
This was our dining room down in the basement.  It held the 40+ GCT'ers with no problem.
Most of us had the "CAD": Certified Alberta Beef.  It was tender and flavorful.  We also had a GCT treated bottle of wine.
With full tummies, we ended our Day 2.  Tomorrow we head south to Waterton Lakes, AB and into the "real" Rockies.