Up, Up, and Away!
This is my version of the 2017 Grand Circle Travel (GCT) trip called "Spain and Portugal In Depth".  This trip is a bit different for me: I'm travelling solo.  My wife, Mary Ann, declined to join me.
As usual, I took advantage of Google and Wikipedia etc. on the Internet for much of my narrative and many of my pictures. You may notice some different fonts, colors and underlining.  They are because I couldn't figure out how to prevent them.  Naturally, all the inaccuracies are my fault, too.
Finally, my trusty old Canon camera died on Day 5 and I had to buy a cheap Nikon camera.  Unfortunately, it didn't work as well as the old one so some pictures are not so hot (fuzzy).  Oh well…
The 18 day trip started on September 15th in Barcelona, Spain and ended on October 3rd in Lisbon Portugal. This is the route we took.  It includes a pre-trip to Barcelona and a flight from there to Madrid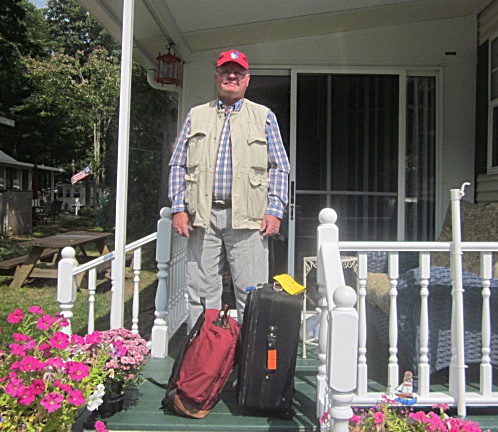 Well Folks, Here I am in my familiar ratty old travel vest and red cap. This shot was taken on the porch of our "Park Model"  trailer at Sea-Vu South campground in Wells, Maine. We spend our summers here and our winters in The Villages, Florida.
The trip started with a lift to the Wells Transportation Center and an Amtrak train ride to Boston's North Station on the Downeaster. From there, it's a couple of "T" stops to Logan Airport. It's about a 2 & 1/2 hour trip from Maine to the airport.
The flight to Barcelona, Spain stopped at Lisbon, Portugal. It was a smooth flight on a TAP Portugal A330 Airbus. The seats had more room than some other airlines and we were served a hot and tasty dinner and a nice breakfast.  I'd recommend TAP Portugal airline to all travelers!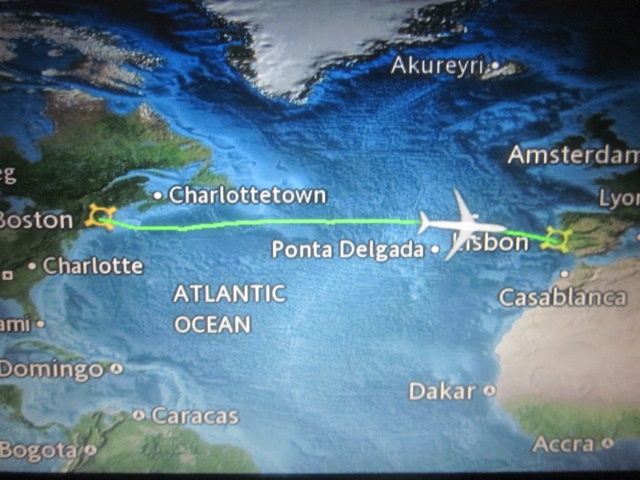 Here is our route. It was a 6 hour flight to Lisbon plus a 2 hour flight from there to Barcelona.  I tried to watch a movie but the spoken language and closed captions were in  Portuguese so I gave up and did cross word puzzles (in English) instead.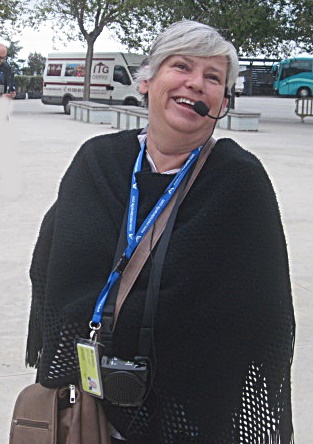 Arriving in Barcelona I was greeted Judy Reeve. She was to be our Barcelona guide for the next 4 days.  This was a "GCT Pre-Trip" at an extra cost.  Judy was of British/Spanish descent and spoke both languages fluently!
Judy was smart, knowledgeable, well organized and had excellent group management skills. Plus, she was a lot of fun!!  There were 26 people who took the Pre-Trip and she "Mothered" us all around Barcelona!
Judy and I waited for another of our group to arrive at the airport.  (I took this shot later in the trip.). It is a picture of Robert Wahl fron Bemidji, Minnesota.  He was also traveling "solo" and we ended up hanging out together as "The 3 Amigos". You'll meet the "3rd Amigo" soon!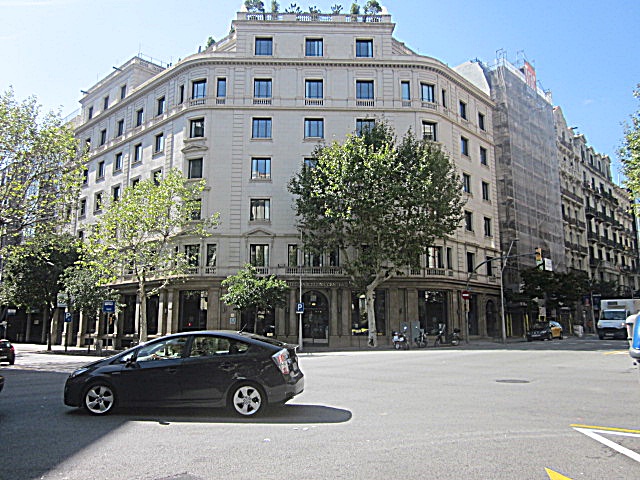 This is he Hotel Barcelona Center where we stayed for 4 nights.  It is a 4 Star hotel and is conveniently located in the center of the city. The rooms were very nice and the breakfast buffet wad pretty good.  One minor fault: The scrambled eggs were cold and the bacon was under cooked.  One really great feature, however, was the selection of breads, meats,  cheeses and fresh fruits. I made my lunch from the breakfast buffet almost every day.  That saved me many Euros.
Our group gathered and we went for an orientation walk around downtown. Judy also pointed out a few sites and a few places to eat and high lighted Catalonia's history.
Here is an abbreviate Barcelona history timeline.
I hilighted the points  in red as the most important.
c.700 BC The Iberians settle in the fertile area between the Rivers Llobregat and Besòs.
c.600 BC  Greek ships appear off the Catalan coast, and found the city of Empòrion on the Costa Brava.
c.300 BC  The Carthaginians occupy parts of Catalonia.
264–200 BC  In the Punic Wars between Rome and Carthage, the Romans capture the area around the future Barcelona in about 200 BC.
c.15 BC  Roman soldiers founded Barcelona as a small town on the road between Rome and Tarraco (Tarragona), during the reign of the Emperor Augustus. The colony's full name is Julia Augusta Faventia Paterna Barcino.
c. AD 350 Roman city walls built.
415 The Visigoths enter Spain and capture Barcelona. Their leader Ataülf makes it his capital, but this later moves to Toledo.
711 The Moors invade Spain and capture Barcelona in 713

.
801 The Franks under Louis the Pious take Barcelona and found the Marca Hispànica (Spanish March) in what would become Catalonia.
c.880  Wilfred the Hairy (Guifré el Pilós), Count of Ripoll, unifies the Catalan counties and establishes the House of Barcelona, a dynasty that lasts 500 years.
985 Al-Mansur, Grand Vizier of the Caliph of Córdoba, sacks Barcelona.
988 Count Borrell II renounces all obligations to the kings of France after receiving no help against Al-Mansur, making Catalonia effectively independent.
1137 Count Berenguer IV of Barcelona marries Petronella, heiress to the throne of Aragón, forming the joint Catalan- Aragonese monarchy.
c.1190 The Usatges, the Catalan legal code, is compiled and written in Catalan.
1213 Count-King Pere I is killed at the battle of Muret in Languedoc, and loses lands in southern France.
1229 Jaume I takes Mallorca, first of a series of major conquests that led to dominance in the Mediterranean.
1274 Barcelona's city ­government, the Consell de Cent, is established.
13th–14th century The Catalan-Aragonese monarchy extends its power to Sardinia and Sicily. Barcelona's maritime law, the Llibre del Consolat del Mar, governs sea trade. Splendid buildings go up in Barcelona's Barri Gòtic.
1347–50 Black Death kills half Barcelona's population.
1357 Corts Catalanes or Catalan Parliament established, with a council, the ­Generalitat de Catalunya, to administer finances.
1391 Anti-Jewish pogroms in Barcelona and throughout Aragón and Castile.
1462–73 Catalan civil war.
Imperial Spain: 1469–1808
1469 Fernando II of Aragón ­marries Queen Isabel I of Castile, uniting all the Spanish Christian kingdoms in one inheritance.
1492 Granada falls, Columbus discovers America, and all Jews and Moors are expelled from all the Spanish kingdoms.
1522 Charles V denies Catalans permission to trade directly with the American colonies, insisting they can only do so via Seville.
1640 After the governments of King Felipe IV demand Catalonia contribute more to the Thirty Years War, Catalans rise in revolt in the War of the Reapers (Guerra dels Segadors), and the Generalitat tries to place the country under the authority of French king Louis XIII. Spanish troops are unable to recapture Barcelona until 1652.
1659 In the Treaty of the ­Pyrenees, all of Catalonia north of the Pyrenees – Roussillon and Perpignan – is ceded to France.
1702–14 Barcelona sides with the Habsburg Archduke Charles in the War of the Spanish Succession, against the French Bourbon Felipe V. French and Spanish troops take the city after a year-long siege on 11 September 1714.
1715–16 The victorious Felipe V issues his decrees of Nova Planta, abolishing the remaining Catalan institutions and establishing Spain as a single, centralised state. In Barcelona half of La Ribera district is destroyed to make space for a fortress, the Ciutadella.
1808–14 Napoleon's troops occupy most of Spain, including Barcelona. Catalans rise up against the French. Experiments are made in democratic government, but when King Fernando VII is restored in 1814 he only seeks to reinstate the absolute monarchy.
The Modern Era
1814 onwards   Barcelona's trade and industry steadily expands, and from the 1830s it has the first steam-driven factories in Spain.
1836–8 Dissolution of most of Barcelona's monasteries, opening up large areas for new building.
1842 Barcelona is bombarded from Montjuïc to suppress a radical revolt.
1848 Spain's first rail line is built from Barcelona to Mataró.
1854–6 The Ciutadella and the medieval city walls are demolished.
1860 The building of the city's grid (Eixample), designed by Ildefons Cerdà, begins.
1868–73 September Revolution, against Queen Isabel II, begins six years of agitation. The first anarchist groups are formed, and in 1873 Spain briefly becomes a republic.
1888 Barcelona hosts its first Universal Exposition.
1901–9 Radicalisation and anarchist influence in the workers' movement are reflected in general strikes, and the Setmana Tràgica (Tragic Week) in 1909, when churches are destroyed in riots after the government tries to conscript extra troops for its colonial war in Morocco.
1914 The Mancomunitat, a joint administration of the Catalan provinces, is set up. Industry flourishes during World War I.
1919 General strike begun at La Canadiense electricity company initiates period of intense social conflict.
1923–30 Military dictatorship of Primo de Rivera suppresses unions and Catalan freedoms.
1929 A second Universal Exposition is held on Montjuïc. The Plaça d'Espanya, Palau Nacional and Poble Espanyol are all built.
1931 Second Spanish Republic proclaimed: Catalonia is given autonomy, with a restored Generalitat under Francesc Macià

.
1936–9 Spanish Civil War: right-wing generals revolt against the Republic, but in Barcelona are initially defeated by the people in the streets. But, after three years of war, bitter fighting and destruction, Barcelona falls to Franco's troops on 26 January 1939

.
1959–60 After years of scarcity, local economy begins to revive as tourism and foreign investment enter Spain.
1975 Franco dies on 20 November. King Juan Carlos oversees moves towards a restoration of democracy.
1977–8 First democratic general elections since 1936, and first local elections, won in Barcelona by Socialists. Catalan autonomy statute granted and Catalan recognised as official language.
1980 Jordi Pujol is elected first president of restored ­Catalan Generalitat.
1992 Barcelona Olympic Games.
1997 Maragall resigns and is succeeded by Joan Clos.
2003 Jordi Pujol retires; Pasqual Maragall heads left-wing coalition. Barcelona holds one of the largest demonstrations in Europe against the Iraq War.
 2004Socialists led by José Luis Rodríguez Zapatero take over Spanish central government after Partido Popular is discredited by its response to 11 March Al-Qaeda bombings in Madrid.
2006 Maragall coalition in Generalitat replaced by one under fellow Socialist Josep Montilla. New Statute for Catalonia passed in Congress.
2008 AVE rail link finally connects Barcelona and Madrid.
2010–11 Beleaguered by the economic situation, Socialists suffer defeats in municipalities and regionally. This is reflected in Catalonia where centrist Convergència i Unió take over Generalitat and city council.
2012 Generalitat President Artur Mas leads a fervent campaign for Catalan independence, aiming for a referendum in 2014.
2013 In the first quarter of 2013 unemployment figures in Spain reach an all-time high of over 6 million (27 percent of the working population). With 57 percent of young people unemployed, many are seeking work abroad.
2017 Catalans seek independence via a referendum.  Results are indesisive.
TMI?
On place Judy pointed out was "Lizarran". It was a Tapa and Pinchos place. Bob and I decided to eat here.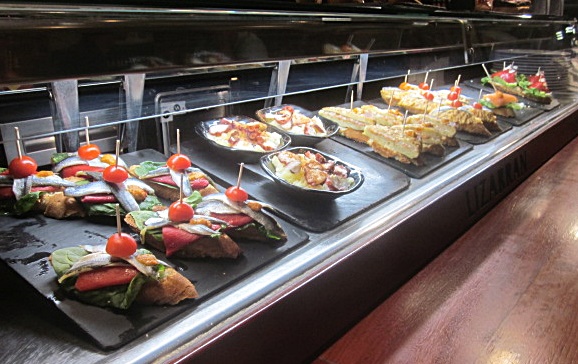 These are "Pinchos".  They are slices of sturdy bread with different topping like meat, fish, veggies, and eggs, etc.  Each is skewered by a big tooth pick.  The short tooth picks indicate the it costs 1 Euro each; the longer ones are 1.90 Euros (except Tuesday's when they are cheaper). You order "a la carte" and you save the picks and then the cashier totals your bill.  Neat!

Bob opted for a burger, fries, and a Coke.   It was super huge and apparently very good! Note his big tooth pick. When they're broken there not considered a Pincho and there is no charge.
After that dinner we went back to the hotel to get some sleep and try to recover from jet lag.  So ended day 2 of our trip (Day 1 was our travel day.