Home Hosted Lunch
Today is Day 9 of our Trip. We started at Torremolinos with a short bus ride to Malaga. The home town of Juanjo Perez – our super trip leader.
 
This was our first stop : the Malaga Fortress or, in Arabic, the Alcazaba. This fortress palace, whose name in Arabic means citadel, is one of the city's historical monuments and is much visited because of its history and beauty.
According to Arab historians, it was built between 1057 and 1063 at the instructions of Badis, King of the Berber Taifa of Granada. Transported material was used in its construction and columns, capitals and other materials were taken from the nearby Roman Theater.
It was restored several times and most recently in the 20th century, and today the building and its important archaeological legacy can be visited.
We trooped along the fortress streets, alleys, and ramparts to an old Barracks building that was now a museum.
Inside there was a collection of mannequins wearing old military outfits. This is one of many. Notice the cartridges on his sash.
This model shows the location of the fortress above the town. It also shows the Malaga Cathedral in the lower left. Note how close the ocean is to the Cathedral. I don't think we visited this cathedral.
Compare the model of the town to today's Malaga. Those are not medieval hotels below. However the Bull Ring is La Malagueta: The plaza de torros is real. It  is currently owned by Fernando Puche Doña, (former president of Málaga Football Club)
The stadium seats 14,000 people and measures over 150 feet in diameter. It has four corrals, stables for the horses, a ménage for training the horses, dressing rooms for the matadors and their assistants, an infirmary, and its own museum celebrating the history of the site and the sport.
The bullfighting season runs from April to September every year. In July and August each year there is a fight almost every day. GCT decided to not include bull fights in its itinerary due to popular demand.
Here is a close-up of a chubby ex-matador with his "Whisper". I include it so you can see how the fortress was constructed: Bricks covered with cement.
Back downtown I had a chance to pose with Pablo Picasso. AKA  Pablo Diego José Francisco de Paula Juan Nepomuceno Crispín Crispiniano María Remedios de la Santísima Trinidad Ruiz Picasso.  He was born in Malaga in 1881.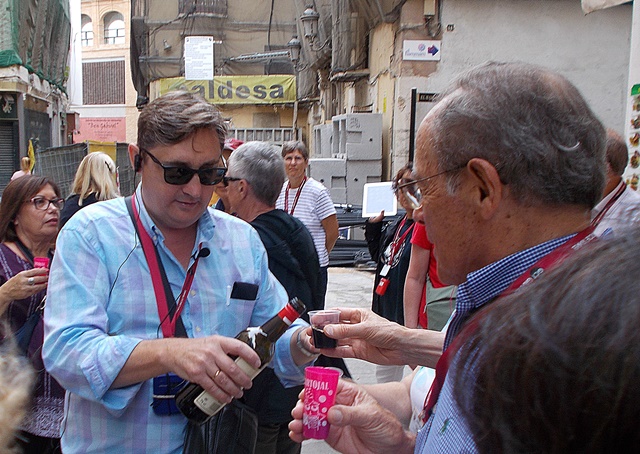 Juanjo took us to a local liquor shop for an early morning taste of the local special wine.
Very tasty, but also very sweet (dulce).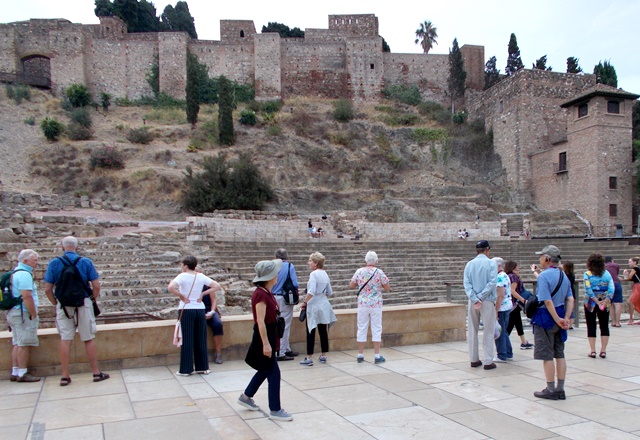 We also got a peek at an unearthed Roman amphitheater in the center of town. Much of the fortress was constructed from thiese ruins.  Underlying much of the city are ancient ruins.  People a cautious about starting a construction project for fear it may be halted by archaeologists.
We're off in our bus to a small town outside of Malaga to enjoy a "Home Hosted Lunch'. Our group of 42 was broken in parties of 6 or 7  and we were met by the local hostess women who took us to their homes.
As you can see, it was raining a bit.
Our hostess: Encarna Salinas sat us at a lovely table in her neat and tidy house and invited us to enjoy her antipasto.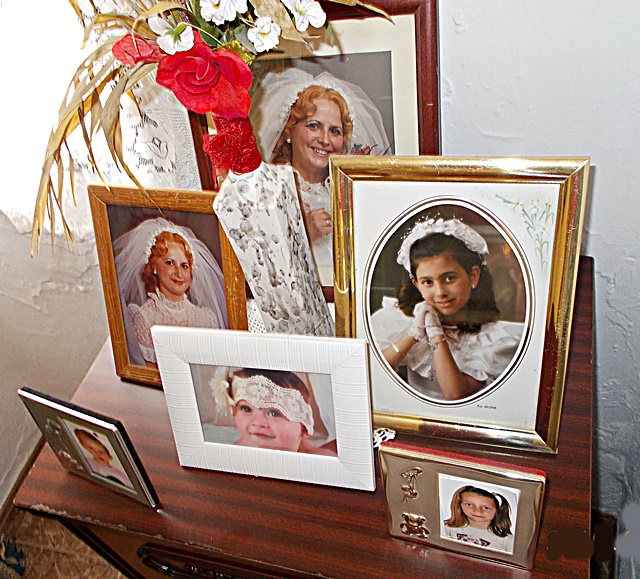 After our salad, we enjoyed a delicious Turkey dinner, our tour interpreter Sandra (one of the 3 Amigos") and Encarna discussed her family.  A younger Encarna is in the upper picture.
After a nice flan for dessert, I gave Encarna a rememberance of my home state of Maine: A real home-made blue sea glass pendant complete with a red lobster charm. She was charmed!
Others in our party gave her gifts also.  She showed me her refridgerator. It  was covered with magnets from places all over the USA.  Neat gifts!
We bade Encarna "adios" and walked back to the bus – noting the village and villagers along the way.
Back in Torremolinos, Bob and Sandra went to a laundromat,  I had been using the Bill Norris' "roll, squish, and dry" method in my hotel room  to keep me in clean clothes.
Instead of doing laundry, I went to the beach to search for sea glass. There was an area of gravelly sand between the surf line and the sandy beach that looked promising.
In fact, I found several nice pieces that will make a nice set of ear rings and a pendant when I get home. Note the pale green color.
I continued up the beach passed a sand sculpture and a statue of "Women running on the beach" by Salvador Garcia. It was based on a painting by Picasso: "Two Dancing Ladies", one of his more famous paintings done in the 1920's.
Here it is. Complete with bouncing boobs!
I met Bob and Sandra for dinner is a local seafood restaurant on the beach for a nice fish dinner. I had smelts, Bob had hake fish and chips, and Sandra had broiled sardines.  All good! After which I went back to the hotel to pack and hit the hay.
So ended Day 9