This is my new web site (blog) containing pictures and narratives of my latest trip. Most of the pictures and text are mine, plus a lot of help from Google, Wikipedia, and other Internet sources. (You know I ain't that smart.)  A special thanks goes to son-in-law George for getting me set up on WordPress. And, an extra special thanks goes to Archie Thomson for hosting me and for tolerating my snoring!   Here we go:
Off to London
"Getting there is half the fun"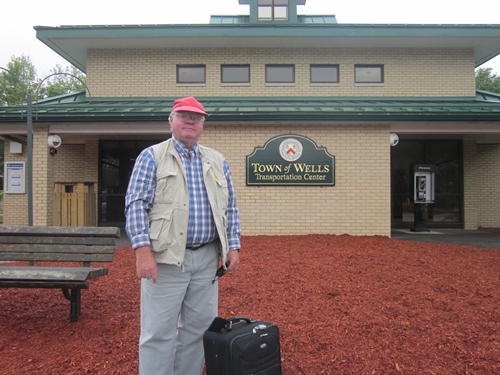 Here I am at the Wells, Maine Transportation Center on June 11th getting ready to board the "Down Easter" train to Boston.  This will be a 10 day trip to London, Portsmouth, England and Normandy, France with my old biking buddy Archie Thomson.  We met at our home in Eastham on Cape Cod many years ago when he was on one of his marathon bike rides in the US.  
Archie was looking for a place to stay and Mary Ann and I invited him into our home for a few days.  He subsequently visited us when we lived in North port, Florida and The Villages, Florida.
Archie will meet me at Heathrow airport outside London and we will tour around together.
Here is my flight:  Boston to Keflavick, Iceland and on to London.  It was a long trip because I had to take a train to Boston; an MTA trolley to Logan airport; a bus to the International terminal, and wait for the flight which was 6 hours to Iceland and another 5 hours to London, then the "Underground" to London.  All in all, it was a 16 hour trip door-to-door.
This is Archie in front of his home at Atherstone Mews in London. A mews is a small street or alley that is located behind the bigger homes on a main street.  They were originally small "barns" with horses, carriages, and hay during the 17th and 18th centuries. The footman lived in a small apartment above.
Now Archie lives in a one of these fashionable and well located places.  More photos later.
As you may know, airlines do not serve free in-flight meals anymore and it was lunchtime when we got to London so  I dropped my bag and went to lunch (breakfast?) with Archie at one of his regular haunts: The Forum Cafe. He had Lasagna and I had "Bangers and Mash" (sausage and potato).  It was tasty but very filling!
After Lunch we took a long walk to stretch the legs after the flight (and lunch).  We went past Kensington Palace Gardens (current home of the Duke and Duchess of Cambridge:.Kate Middleton and Prince William).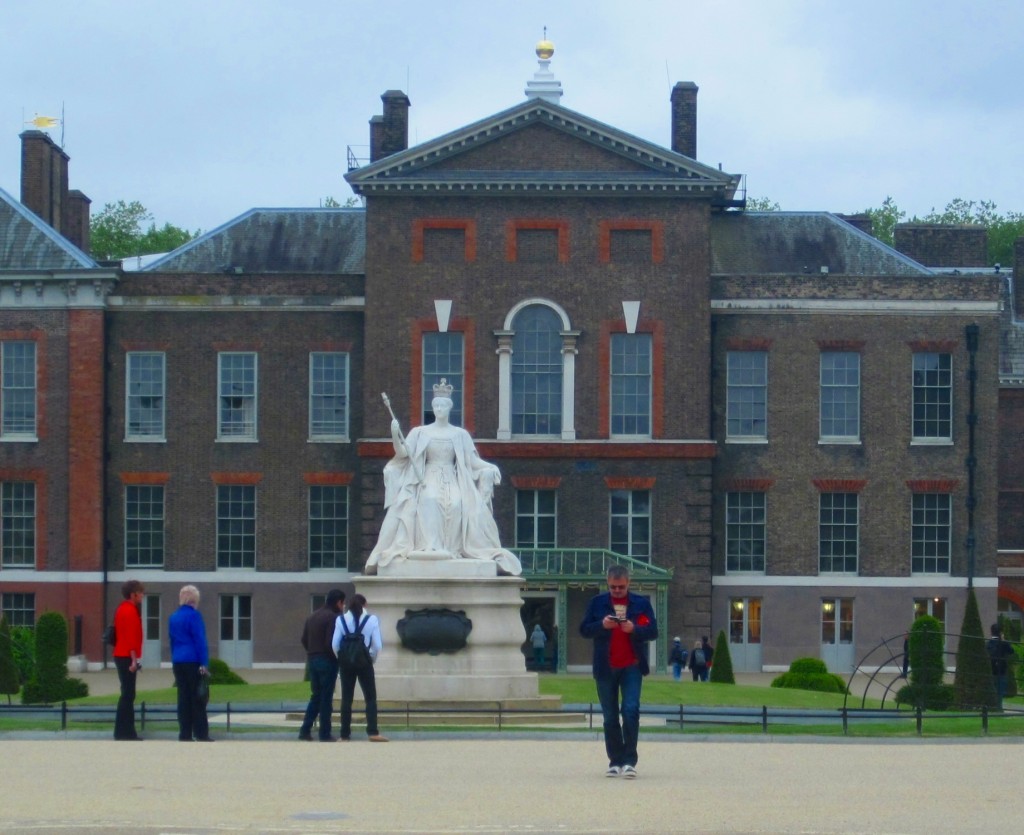 Queen Victoria's statue at the Kensington Palace:
This Princess Diana Memorial Plaque in Hyde Park is one of many that lead to a Memorial Fountain near the Palace dedicated to Diana.
The Prince Albert Memorial, also in Hyde Park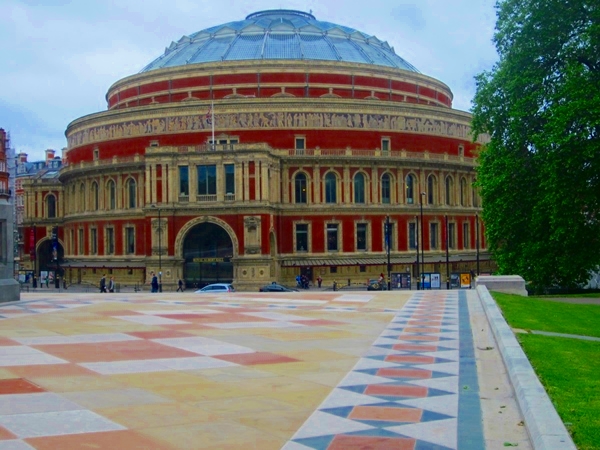 The Royal Albert Hall
And, finally, The beautiful British Natural History Museum: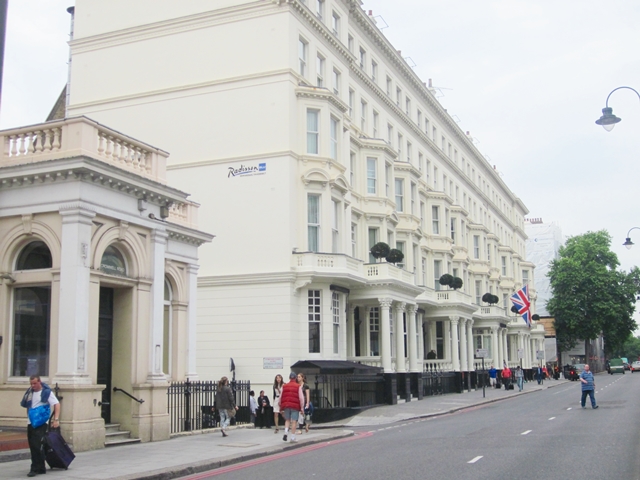 We then returned to Glouster Road where I took this picture of the homes (now a hotel) in front of Archie's Mews.
 Behind the homes (hotel) is the Atherstone Mews. Archie's place is the light colored unit with the green double garage doors. Note the door above his front door.  This is where they lifted the hay when it was a horse barn.
We'll now take a quick tour of his home.
First we see his 1933 MG in his gararge.  It's fully restored and is super neat. He's also got a bunch of bikes hanging from the ceiling.  They make great cloth drying racks.
Here is Archie's kitchen.  It's very efficient, neat and tidy.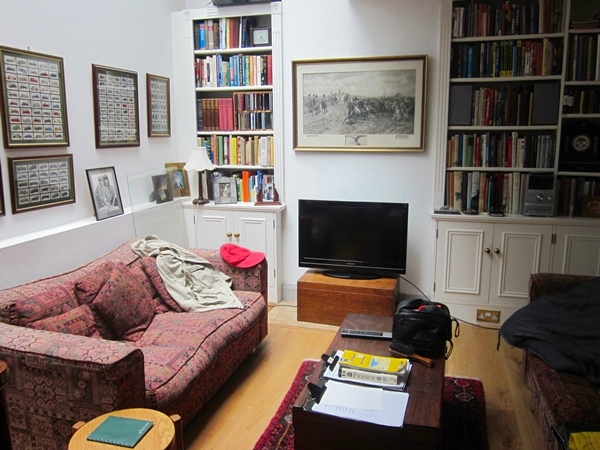 His living room has several built-in book cases with mostly car and biking books.
 Here's the bathroom.  Nice new clean functional fixtures.
 Here are his most important appliances;  An old coffee maker that brews great coffee and a "retro" toaster that he keeps working.
 Archie has a framed collection of old "cigarette" cards.  At a time (cigarette cards were issued during the 1870s to 1940s) when the average person could not afford books, and newspapers contained no photographs, the attractive and encyclopedic cigarette cards were very popular. At the beginning of the 20th century, more cards were issued with cigarette brands than for any other product and this is probably why trading cards are often referred to as "cigarette cards" even though there is no connection with cigarettes. Cigarette cards cover a wide range of subjects: sport, transport, wildlife, movie stars etc.. Archie's are mostly car related.
 Here is another view of Archie's living room.  The spiral stairway leads to his loft bedroom and computer area.  I slept in the loft.  Archie slept on the sofa.where his suitcase is  sitting.
 Here's the loft computer area.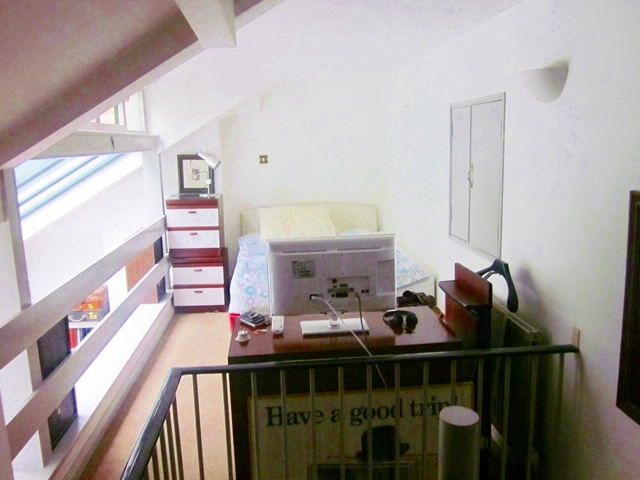 Here is Archie's bed that he gave up for me. (It's hidden by the TV.) Above the living room next to the loft are a set of skylight windows that raised the roof and let in a lot of light.  Very Nice!
It was getting late (for me and my jet lag) and we had a big day planned for tomorrow so we hit the hay for some zzzzz's