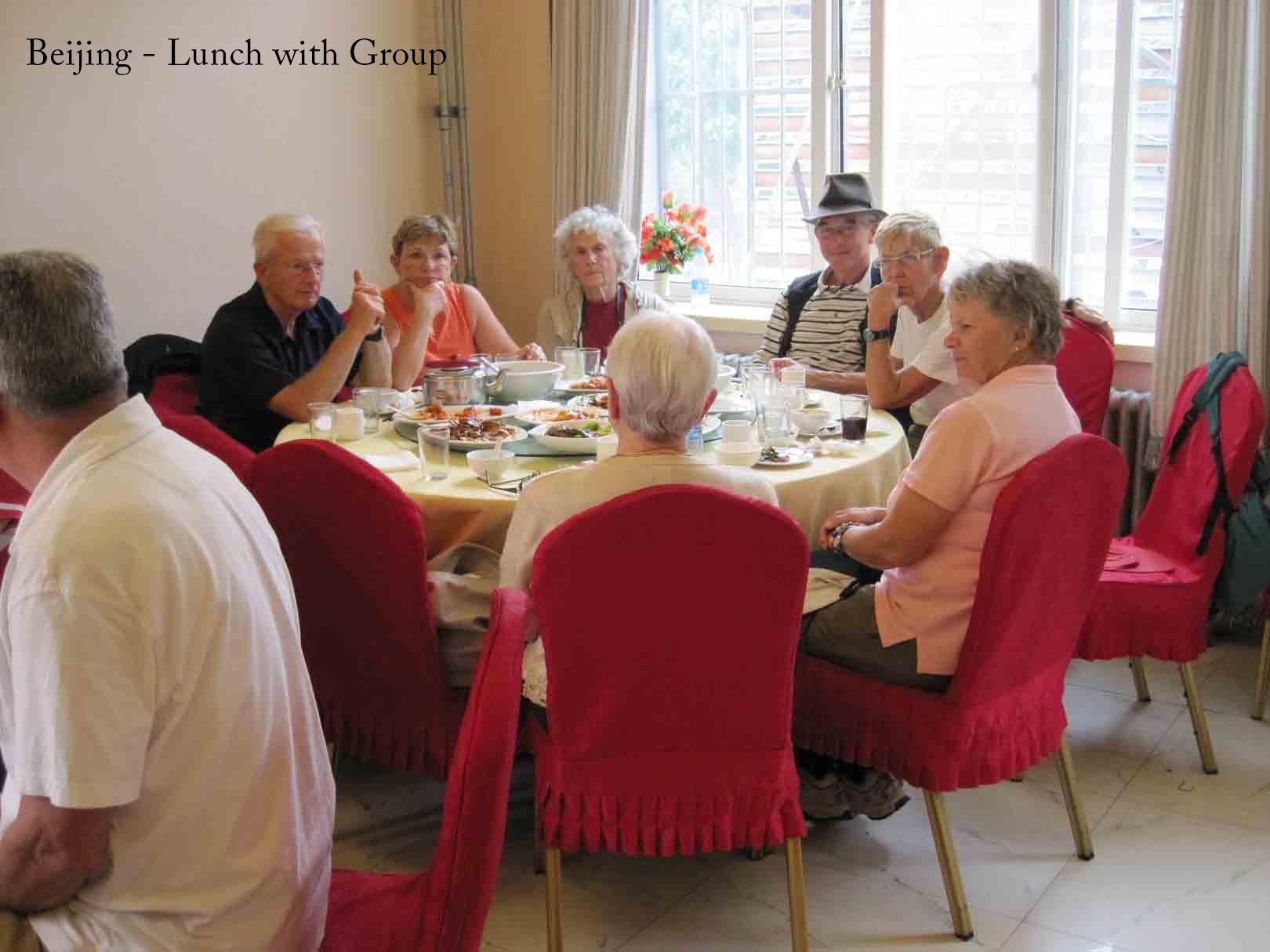 After our tour of the Forbidden City and Tiananmen Square we went to lunch at a local Restaurant. This lunch and most other lunches and dinner we had were quite similar. Usually 7 courses including: an appetizer, sticky rice or noodles, soup, a couple of stir fried veggy dishes and a couple of meat dishes (poultry, fish, beef, or pork). In this lunch we had Peking Duck (not Beijing Duck) and fish We were always at tables for eight with the food served on a lazy susan.

We had chopsticks and a little ceramic spoon and most fortunately a fork (Woo Hoo!). I never got adept with the chopsticks. Mary Ann used them and most of our group did as well.

We all got two small glasses of beverage: Coke, Sprite, beer, or water. Tea was available but it was always weak and not very hot (in China? Go figure!)

Most restaurants were quite clean and many had "western" toilets (more on that later).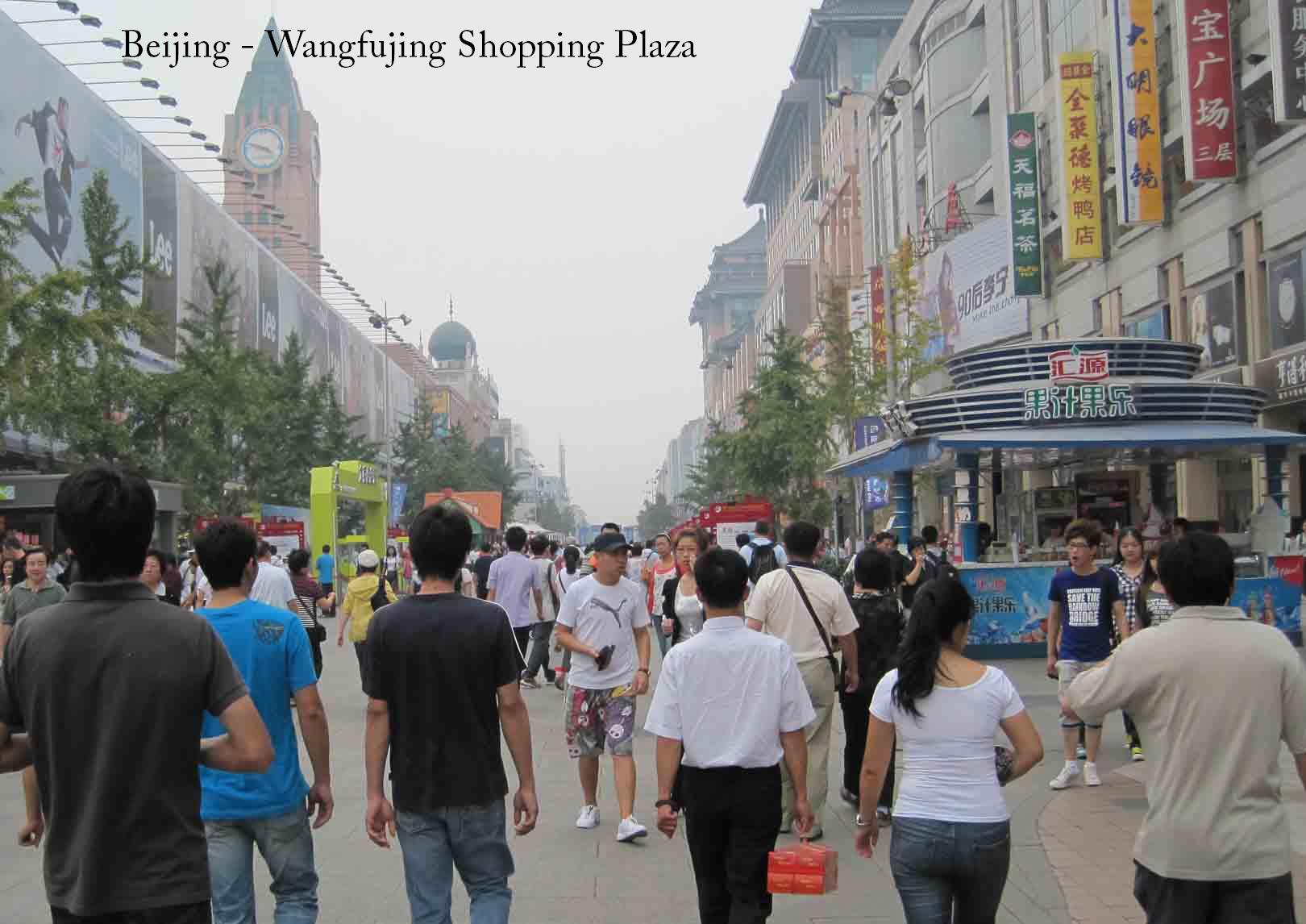 We had the afternoon off so we went shopping in the Wangfujing shopping area. The stores in this are are VERY western. Like a shopping mall in any American city! Even the shoppers looked western. Note all the jeans and tee shirts.

I had some fun with the sidewalk sculptures.
This is the Beijing "Night Market". What you see here is some nice looking candied fruit. What you'll see in the following pictures may surprise you!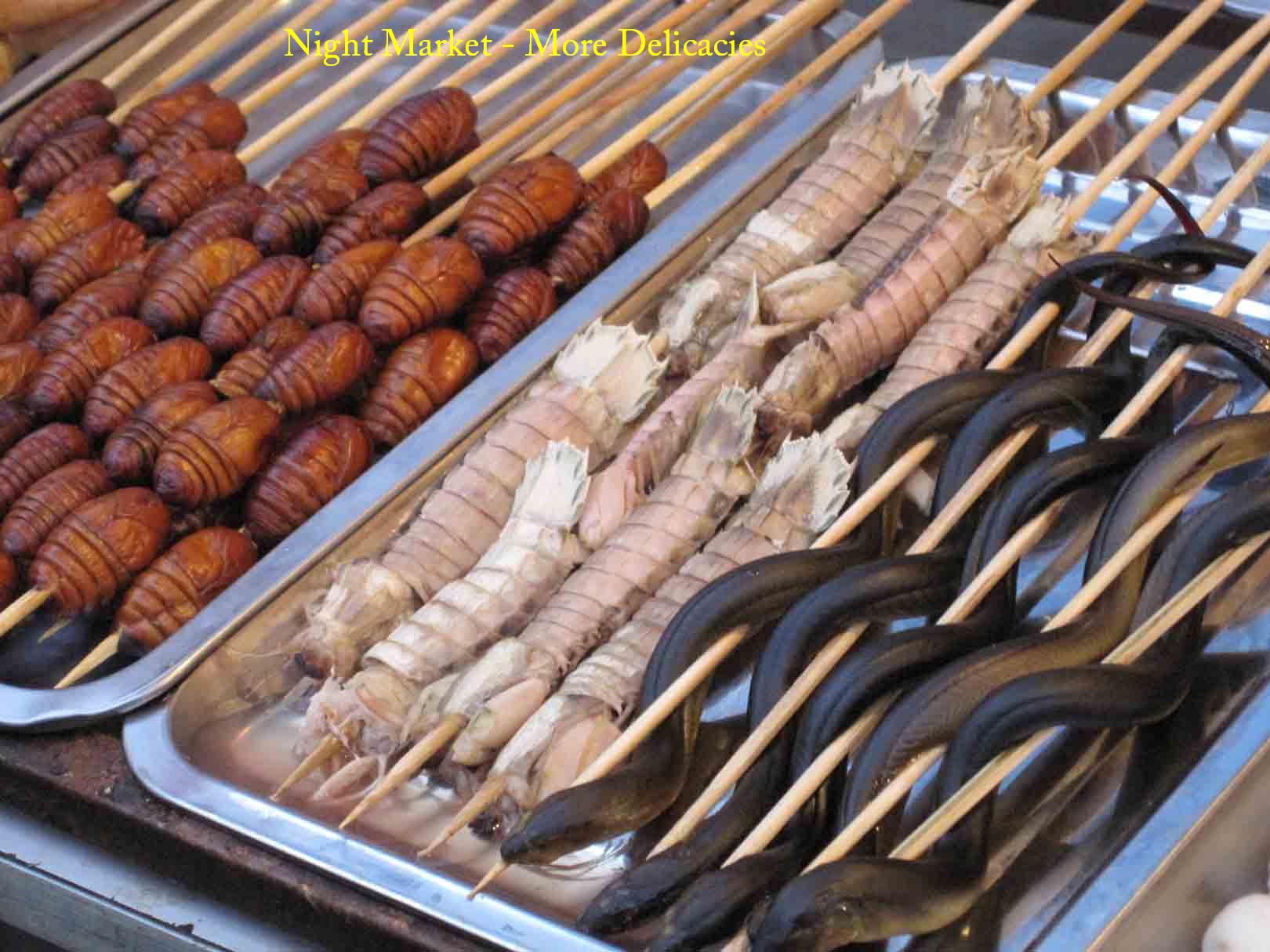 You guessed it! They are scorpions, sea horses, star fish, silk worm pupae, snakes, and sheep testicles. We never saw anyone eat any of this stuff, but there were pleanty of lookers. These delicacies(?) are battered and then cooked in deep frying oil.
On Day 4 of our trip we took our tour bus to see The Great Wall. It was a damp drizzley morning and I forgot my rain jacket. Duh!.

This area of the wall played an important role in Chinese history. It was here at the Shexia Pass that the Mongol "Horde" (from Mongolia) attacked and broke through in 1644. They went on to conquer Beijing and most of the rest of China. Thus ended the Ming Dynasty and began the Manchu or Qing Dynasty which lasted until 1912 AD.
This is the view fom where we were standing. Many in our group braved the rain and fog and went off into the clouds. A few of us went back to the bus. We saw the wall and stood on the wall and that was enough.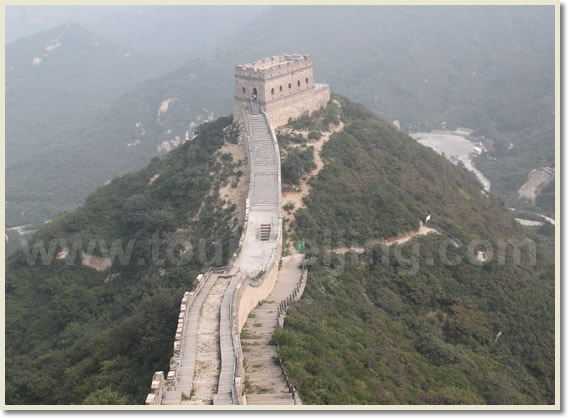 On a clear day this would be the view from the next guard tower back to where we were standing. If you look to the middle right you can see the Shixia pass where the wall was breached. It's right below the parking lot.
On our way back to Beijing we passed the Olympic "Bird's Nest" stadium. This is where the opening ceremonys took place on 08/08/08. (8's are important numbers for the Chinese.)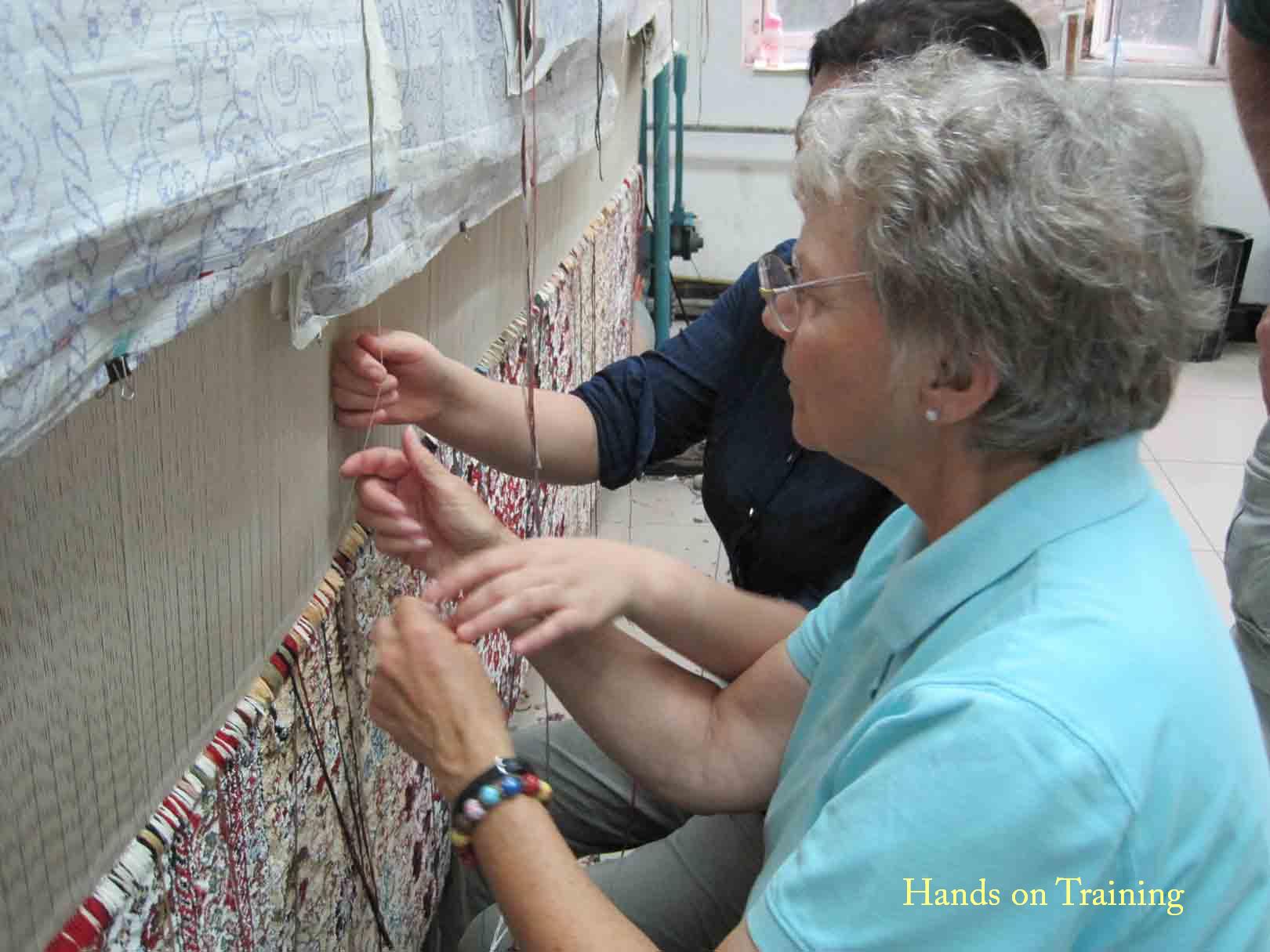 Our final stop that day was at a silk carpet factory. It takes 18 months to make a high quality carpet and one woman can finish 3 carpets before her eyes and hands give out. After that, it's back to the farm, I guess. Mary Ann tried her hand at it. She said it was pretty tricky, like playing a harp.

Note the instruction diagram above the work area.