Our 2010 China Trip
Page 3
On our 5th morning were toured the Summer Palace in the rain. It is in northwest Beijing and was the summer home of the Emperors and Empresses during the Qing Dynasty (1644 to 1912). The palace grounds were started in the mid-1700 and covers about 750 acres with about 75% being Lake KunMing. It is now a park open to the public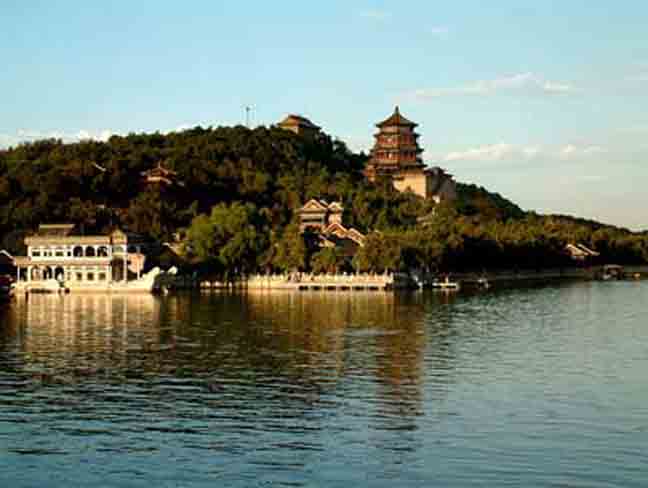 Here is the "Hill of Longevity" On top of the hill is a Buddist Monastary and "The Fragrance Hall" pagoda. In the lake below sits the Marble Boat or "Boat of Purity and Ease". Don't you just love the Chinese names?

The Empress would drink her tea and listen to music here. Do you suppose they played Handel's "Water Music"?

(This is an internet photo. My photo was too foggy and smoggy.)
We all piled aboard this Dragon Boat for a damp 20 minute cruise across the KunMing Lake to continue on to lunch and a visit to the Beijing Opera School.
At the Beijing Opera School boarding students develop skills in martial arts, acrobatics and tumbling, music and dance as well as Chinese opera. The school has produced many stunt performers, action choreographers, actors and film directors including some of the most famous stars of Hong Kong action cinema.

These kids were doing singing and acrobatics practice. The boy in the upper right sang a solo for us. He had a beautiful voice.

If you want to learn more about this type of school go see "Mao's Last Dancer". It's a realistic portrayal of their lives and training. Some of it is truly back breaking as I'm sure some of the girls will testify!
After visiting the Opera School, we went to a dinner theater performance at the Beijing Opera House. Before the show, we were allowed backstage to watch the performers get ready. Then we saw and heard the opera. It was a story about General Tzu and his son and one of the Generals concubines who was in love with the son. It ws a complicated plot made more difficult to understand when sung in high-pitched, nasally Chinese accompanied by several high-pitched instruments and crashing percussions. It was, however, very colorful and loud.

The mean looking guy on the right is General Tzu.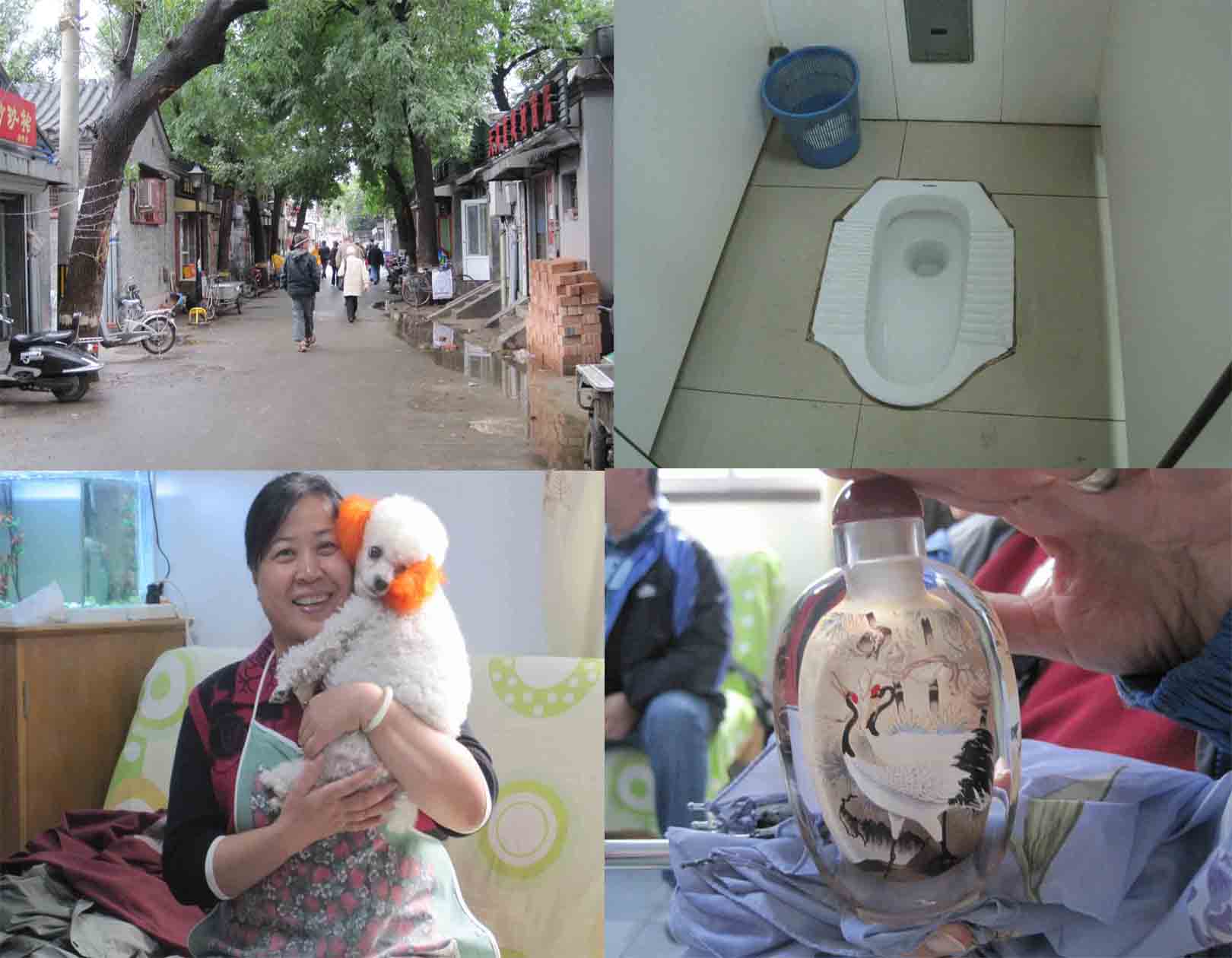 These shots were taken on day 6 in a Hutong (Mongolian for "water well"). Hutongs are old Chinese neighborhoods in Beijing. They originally contained large homes of extended wealthy families. They were usually big two story houses with many rooms and a central courtyard.

During Mao's Cultural Revolution in the 1960's the Red Guard evicted the aristocratics, divided the large homes into numerous 1 room homes, installed community toilets (one holer "Eastern" toilets), and populated them with prolotariates.

We visited a hutong and had lunch at a small home hosted by Madam Wong, the lady holding the orange-eared dog "Mao Mao". Her daughter lived there and she painted small glass snuff bottle (from the inside).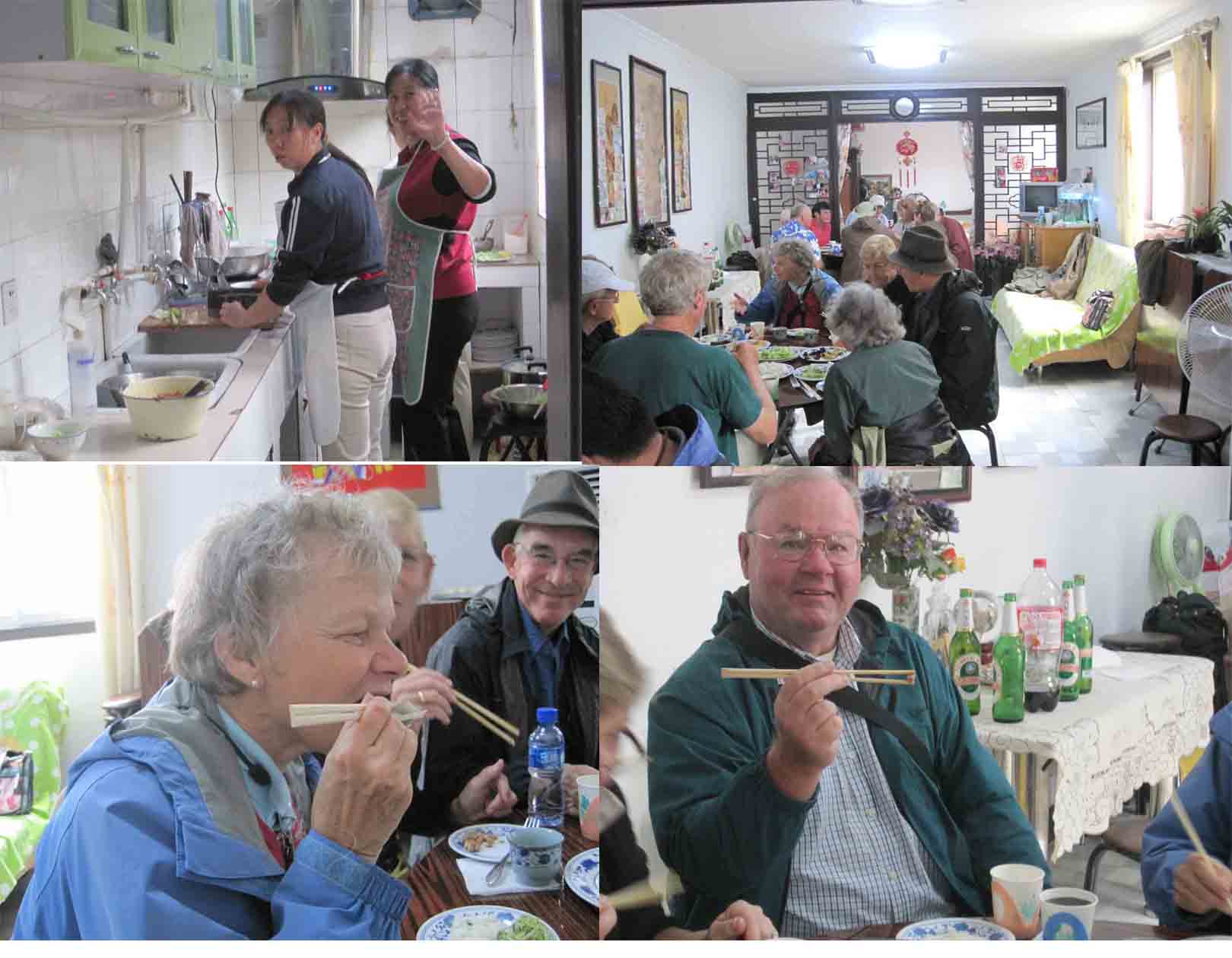 This is Madam Wong in her kitchen with her sister. They cooked us a nice lunch that we ate in her tiny dining room/living room/bedroom. Her whole house was about 20 deep and 12 feet wide - one room of an older pre-1965 house.
I figured out the chopsticks, especially the wooden ones that are stuck together: Don't break them apart. Use them like tweezers. I could pick up a single peanut with ease! Note my 2 glasses of beverage: one Coke and one beer.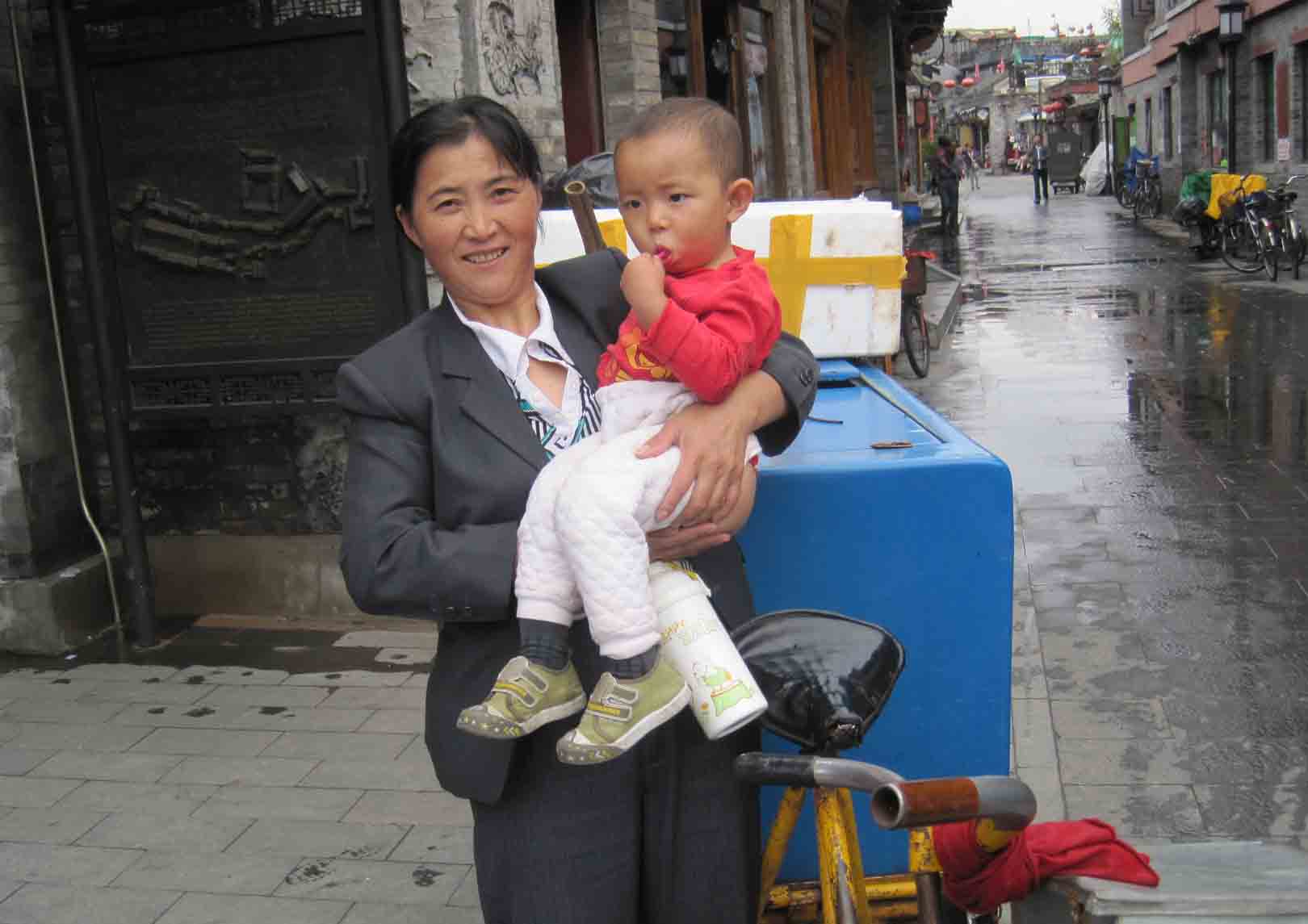 Outside the Hutong, I took this picture. Chinese folks don't mind too much if you take their picture as long as you ask first and show them the picture.

I took this because the little boy was cute and he was wearing "Happy Pants". Note where his mother's hands are located. Yes, that's his little butt sticking out. More on this later.
Here we are at the Temple of Heavenly Peace in Beijing. It is 13 stories high and several hunderd years old and is made entirely of wood - even the roof. There is a real neat museum nearby that has a scale model of the construction of the Temple. It looks like it was made with "Lincoln Logs" only better!
The Temple holds numerous scriptures and relics and is entrance is wide open. Nobody attempted to enter. There were probably guards lurking somewhere, but I didn't see them. The colors of the columns and inside the dome were amazing.
Inside the Dome. Unbelievable colors and construction!!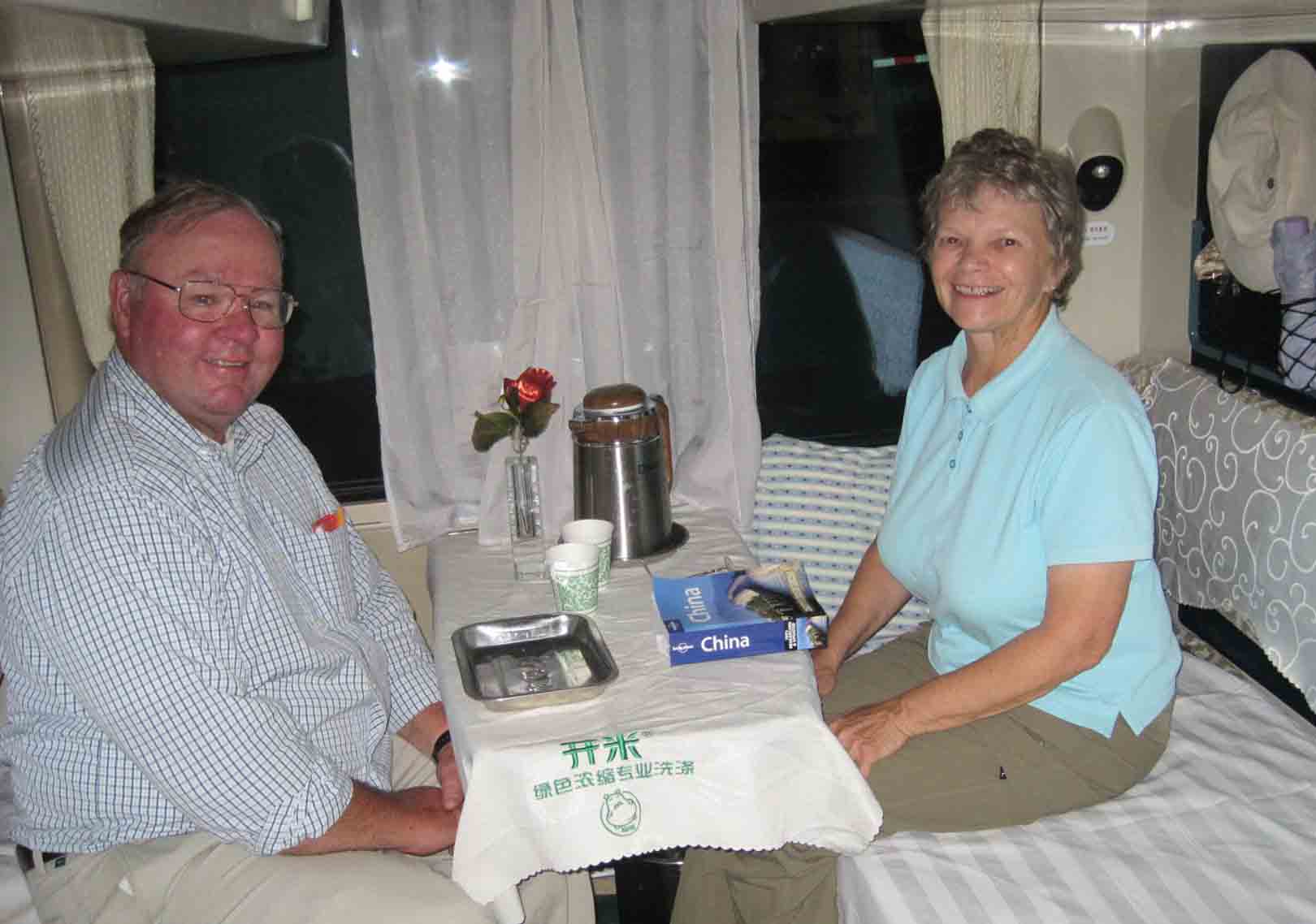 We left Beijing on the evening of our 6th day of our tour. Somehow, our intrepid and very capable leader - Joan - secured an entire sleeper car with 9 compartments. Each couple got their own room with comfortable beds and morning tea.
That was it for Beijing. Now we're off to Xian to see the Terra Cotta Army.