Our 2006 Alaskan Cruise/Tour
Page 7
Our 5 hour train ride to Fairbanks followed the Nenana River. Near Denali the river flowed through gorges, but as we neared Fairbanks the terrain leveled off to a broad forest of poplars, aspens, willows, and beaver meadows. Here, however we enjoyed bridges, tunnels, and rugged mountains!
Here are Anthony and Martina Chia. They are tourists from Singapore. They were a friendly and interesting couple. We kept bumping into them as we travelled. Martina excitedly picked blueberries in Denali. Apparently they are an expensive delicacy in Singapore.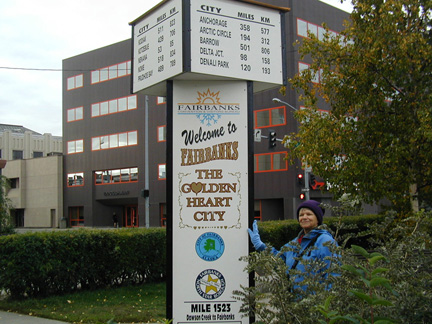 Finally, Fairbanks! Alaska is huge and the time it takes to get places was longer than we anticipated. Fairbanks got its start as a jumping off point for gold explorations coming up the nearby Yukon River. It's a small city, home of the Alaska University, Fairbanks (the other branch is in Anchorage). The local Wal-Mart competitor are the "Fred Meyer" stores. We'd take the excellent bus system (75 cents) there when we wanted a food court lunch.
Does Mary Ann look cool? It was about 50 that day.
Whatever you've heard about Alaska's vegetables is true! Long summer daylight hours and warm temps create this size cabbage. Lota sauerkraut here!
This is our Fairbanks B&B. Very comfortable, reasonably priced, great breakfasts, good company, and an outstanding host: John Davis.
The other couple are Veerle and Wiel. They are Netherlanders transplanted to New Zealand. Great conversationalists.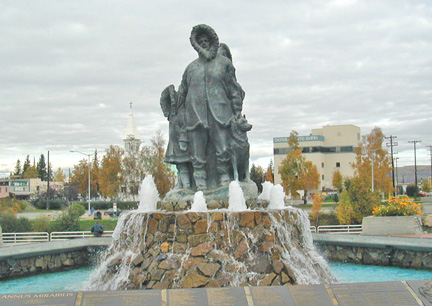 This is a sculpture of the early Athabaskan settlers from Asia. They arrived during the Ice Age when there was a land bridge. They were following game animals (moose, caribou, mammoths, bison, etc.) who were also migrating. They all must have been a hardy bunch!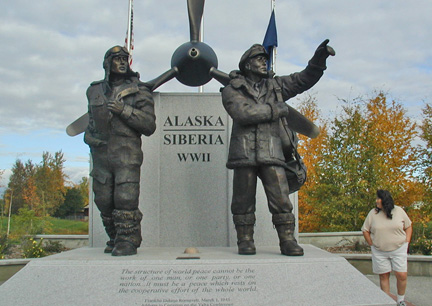 This sculpture commemorates an unusual activity in WWII: The US made war planes in factories around the country. Women (WAAF) pilots would fly them to Great Falls, MT. US pilots would fly them to Fairbanks. Soviet pilots would fly them to the eastern front in Russia. "I didn't know that."
(Note the woman in shorts and tee shirt. She must be an Athabaskan descendant.)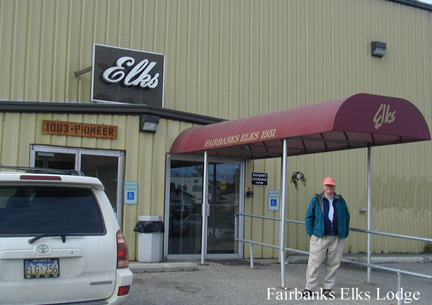 This is the northernmost Elks Club. Mary Ann and I enjoyed a great steak dinner there. Inexpensive, too!
To be "PC", I'll show you the Moose Lodge...