Our 2005 Biking Cruise
Page 5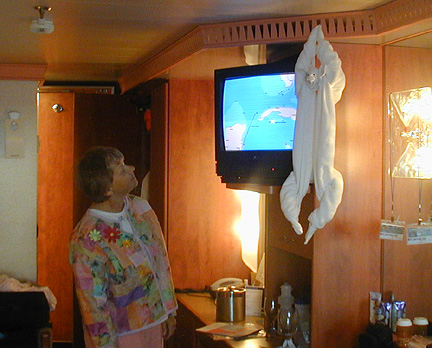 Back on board the "Valor" and underway.
Mary Ann checks the TV map to see that we are on course. Notice the new "Towel Critter". This one is a monkey, I think. He hung around for 2 days.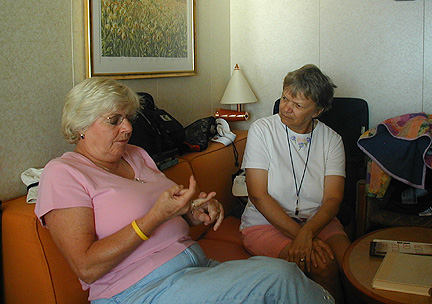 Marianne Welsh (on the left) adopted us after we drove her to Miami. She was good company and a lot of fun. She's from Wis-CAHN-sin and spends most of her winter in Englewood, FL.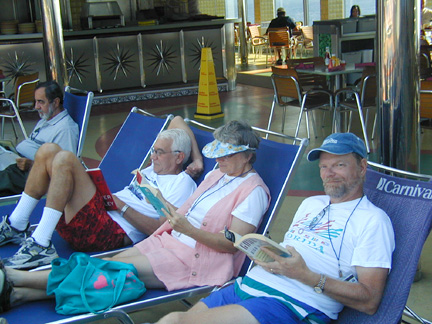 While we were at sea on the last day, I wandered around the ship trying to take pictures that would show what it looked like. This was taken on Deck 9 (the Lido Deck) near the Prometheus Pool. Mary Ann is the rose between the two thorns.
These are shots of the Prometheus Pool, the Jogging Track on Deck 11, and the Panorama Deck
This is the forward pool and hot tubs on the Lido Deck. Note the green water slide, the radars, and the bikini babe.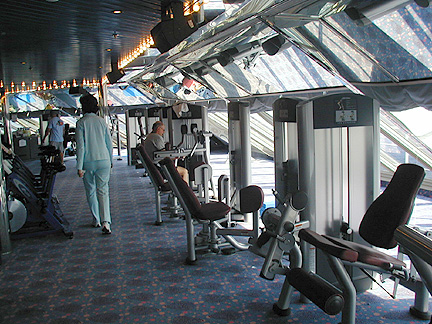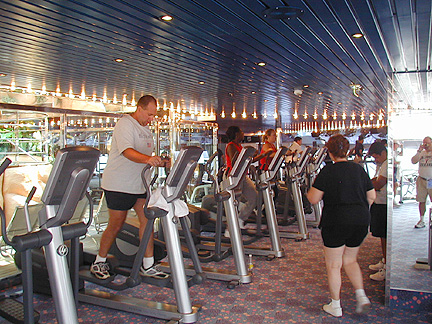 For those who felt the need to work off all the good food, there is this free Spa. Pizza and burgers were available 24 hours a day. Buffet service was availble from 6AM to 9PM. And a menu service, sit down breakfast and dinner on linen and china was availble every morning and evening.
Everything except soft drinks, alcohol, special Spa services, and on-shore excursions was included in the basic charge. Anything that cost extra is put on your "Carnival Fun Card". We put our wallets in our in-room safe and they stayed there until we debarked.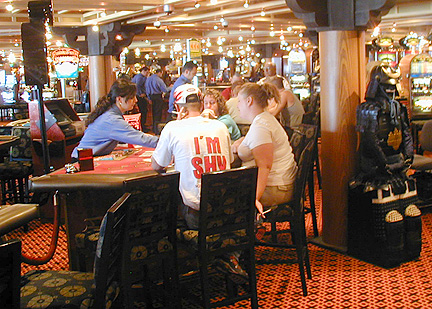 If you had the urge to gamble (which a lot of folks did) there is the Shogun Lounge. The motif is Samurai warriors armor complete with mean looking masks. One of those guys is on the right in the top picture.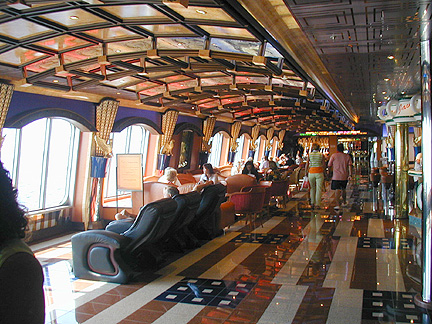 A couple of fancy places on the ship was the 4 story "American Atrium". You can see the pursers office in the lower floor of the Lobby. The other picture is a small part of the "Boulevard". This is where the Duty Free shops, lounges, and dance halls are located. we learned the Merangue and Salsa steps.
My favorite place on the Boulevard was "Togo's Sushi". I would stop here each day in the late afternoon to grab a sushi snack before our 8PM dinner seating. You could eat all you wanted and it's all FREE!
All of the shows and lectures were held in the "Ivanhoe Theater"> This gathering was hosted by our Captain as an awards ceremony for the outstanding crew members. The Captain and most of the senior officers were Italian. The ship was built in Italy in 2004. The crew is mostly eastern Europeans, southeast Asians, Hispanics, and/or Africans. we didn't see any US Americans in the crew.