Greetings from warm, sunny Florida! We have just returned from a western Carribean cruise on the Carnival "Valor". Here are a few of the sights we saw and the things we did along the way. Hope you like the pictures and I hope there aren't too many of them.
This is the "Valor". She's almost 1000' long, has 14 state room and activity decks, carries 3200 passengers, has a crew of 1400, and is brand spankin' new! Our room was on the 2nd deck (one of the little windows just below the lifeboat deck).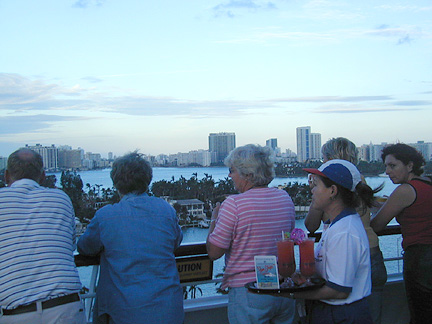 We left Miami on Sunday, Nov. 27th. This shot shows Mary Ann and Marianne (a Bike Club member we drove here from North Port). You'll notice that we haven't left the Port of Miami yet and one the "drink people" was there to get you started. (Drinks were $6.00 apiece).
After stowing our suitcases and having our first lunch, Mary Ann and I scouted the ship. This is the sunning and pool area forward on deck 9 (Lido Deck). It was already full of people.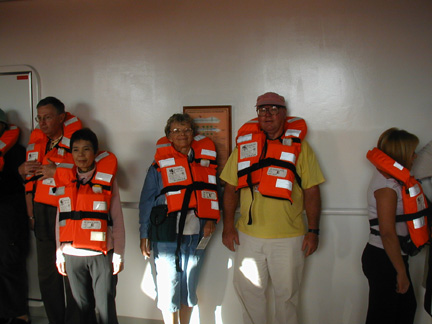 Everyone had to muster at their lifeboat stations with their PFD's on for a drill. I'm glad we didn't have to do this for real!
Our passageway on deck 2 (Main Deck) was 900' long. There are 240 "staterooms" along it. There is another matching passageway on the other side of the ship with another 240 rooms. With so many rooms you'd think we'd be bumping into people all the time. We weren't!
This is our room. It was very nice and we had plenty of room. I took this shot just before we went to the "formal" dinner. That's why Mary Ann is all gussied up.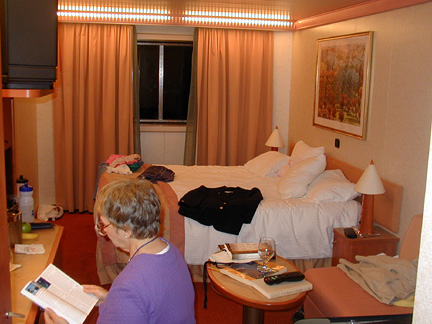 This is our room looking towards the window. We upgraded to a window room and it was worth the extra money ($300). It was nice to see the daylight and starlight. Mary Ann spent a lot of time watching the waves go by and all the sea sights.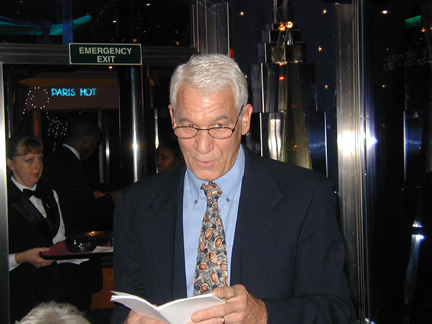 Here is the Richie Huttner. He is in our Bike Club and he is the organizer of this cruise and bike tours for us. He did and outstanding job keeping us informed of all our activities and being our gracious host. Good job, Ritchie!!
PS Notice the "drink person" lurking in the background.