We watched the sun go down from the 11th deck and went into the "Windjammer Cafe" for a great buffet dinner.
Bright and early the next morning, I went to the "Ship Shape Center" on deck 9 for the morning stretch class. After each session we all were given "Vitality" tokens. I had enough to get 2 free T-shirts at the end of the cruise. Woo Hoo!!
Mary Ann opted for weights and the stationary bike. After the exercise, we hit the "Windjammer Cafe" again for breakfast. There were tons of fresh fruit and pastry as well as the usual bacon and egg type stuff.
This is the "Centrum". It is a huge atrium amid-ships that is an opening 6 decks high. There are two jewel box elevators and sweeping staircases. All the ships offices and swanky boutique stores are located on these decks around the "Centrum".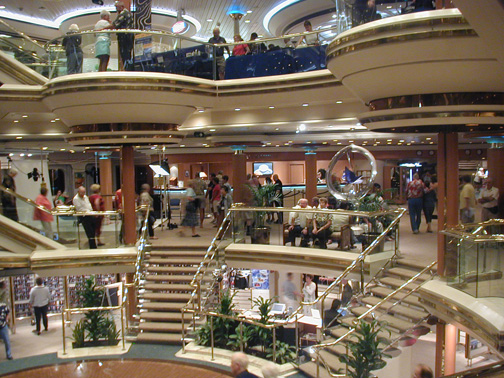 This is another view of the "Centrum". Note all the brass and glass. It's a pretty flashy place, but it would not be a good place if we hit an iceberg.
This is also the place where the Paparazzi wait for the folks with their finery. There are several "formal evenings" when wearing a tux is almost mandatory.
We didn't bring our tux or evening gowns, but I'd say we looked OK. What do you think?
(This is a photo of one of their photos. It was too expensive to buy one.)
There was a neat sitting area just off the "Centrum" where you could chat or read or wait for dinner companions. Note the fancy glass ceiling.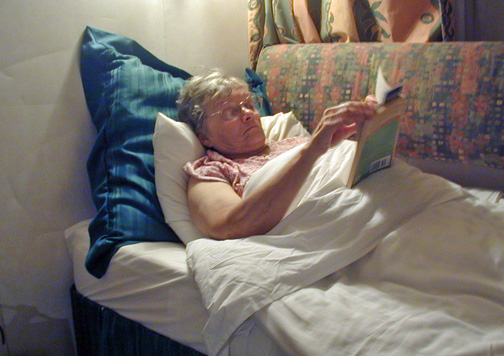 Here's Mary Ann in bed on the night before our first cruise stop in Puerto Vallata, Mexico. We had small twin beds, but they were comfortable and the bedding was clean and cozy.