This is a typical street in the older part of town. Note the very rough cobblestone street. It's common of most of Central American cities.
We hired a taxi from the Marine terminal (for 10 dollars apiece) with Earl and CeeCee for a quick tour of the town. We did not take an "excursion" sponsored by the ship - way too expensive! The taxi drove us to and around the old town and to one of the high spots in a swanky neighborhood. The view was great.
Mary Ann peered over the edge of this scenic overlook. Note the high rise apartments in the distance and the great view of the bay. I think she was looking for the home of Liz Taylor and Richard Burton (Two of the many gringo celebrities who enjoyed Puerto Vallata.)

PS "The Night of the Iguana" was filmed here.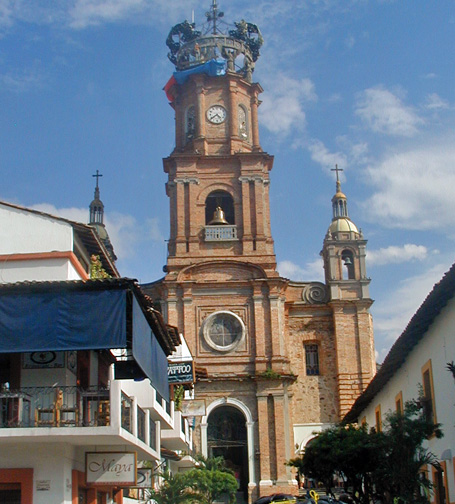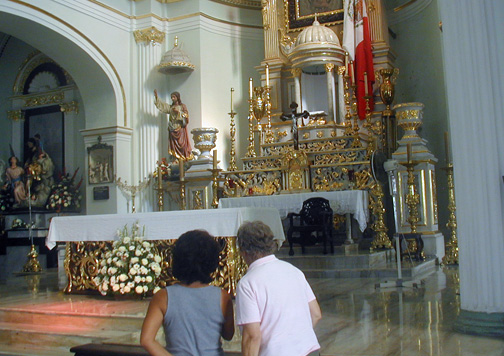 Here are two views of the Cathedral of Our Lady of Guadalupe in downtown Puerto Vallata: Outside and inside. With a backside view of CeeCee and Mary Ann.
Earl and Ceecee left us at the church and Mary Ann and I went exploring on our own.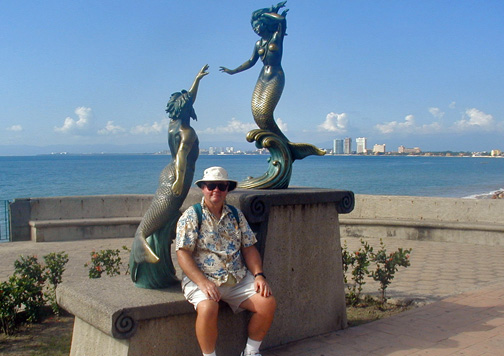 Aqui es un turista al frente de una esculptura en el Malacon. The Mermaid and merman are symbols of Puerto Vallata and are one of many sculptures on the "Malacon" (the waterfront walkway). Note the high rises in the distance.
Aqui es una otra turista al frente de una esculptura en el Malacon. In the background is the "Cheeky Monkey" saloon.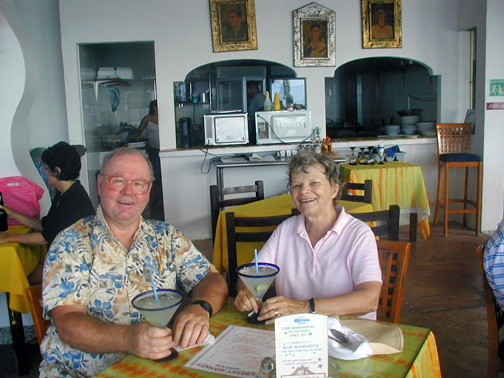 Here we are at the "Cheeky Monkey". It's a nice, clean second floor bar/resturant with an open air view of the Malacon and Banderas Bay. It was a hot and humid afternoon and we needed a drink. "Margeritas for a Buck" beconed us. We had 3 apiece. Note the size of the drinks and our grins...
Our final view from the Malacon was this sand sculpture of Our Lady of Guadalupe.
br>
We caught a local bus back to the Marine Terminal. It cost 5 pesos (about 50 cents apiece).

Our final view of Puerto Vallata was their Wal-Mart where the prices are low "SIEMPRE".

The following pictures are Towel Critters. They are folded and rolled towels left by our room Steward each evening.
br>
This last Critter was on our TV. One TV channel showed a view from the bridge of the ship and also a map (Indiana Jones style) of our route.

We left Puerto Vallata at 7PM. It was an OK town, but one visit is enough.