The Fort was started in the 16th centuary and rebuilt a couple of times. It defended the town against English and Dutch raiders for over 250 years. It is now a museum and in one room there was this neat model showing the shape of the fort.
Here is the Gazebo in the Zocalo. I bet every Spanish Colonial town in the New World has a Gazebo in their Zocalo.
Here is the view from in front of "El Mirador" the famous hotel at the Quebrada. The cliff divers are hanging around here waiting for their time to dive.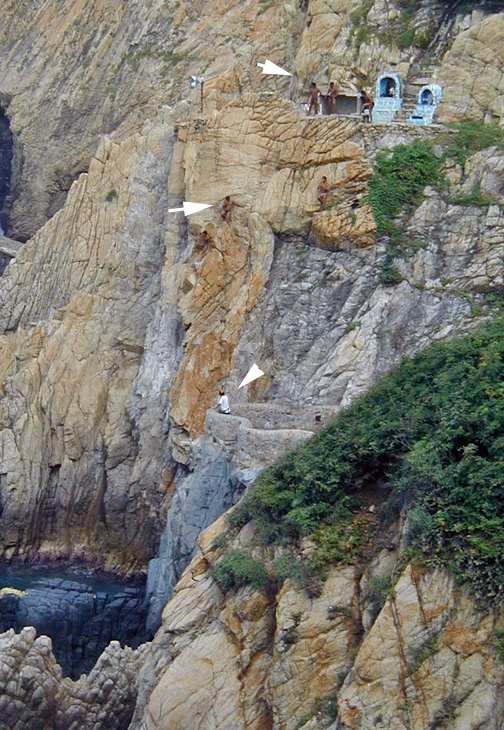 This picture shows the diving spot. The top arrow is where they leap from (note the little shrinse there). The middle arrow points to a diver in mid air heading to the water in the ravine below. The bottom arrow points to a spectator who paid a bunch of peso to get w ringside view.
This picture shows the diving spot from a distance away. The arrow points to where they leap from. You can see the "El Mirador" and other hotels and resturants that are above "La Quebrada". Obviously, this is the main tourist attraction in Acapulco.
Mary Ann and I hiked the long way back to the ship. Earl and Ceecee had seen enough of Mexico and headed back earlier. We passed the Marina with it's Faro (light house). It wasn't a very swanky marina, mostly fishing boats.
Here is "Playa Tlacopanocha". It's not as swanky as those near the hotels and condos, but a lot of the locals were enjoying a dip on a hot humid day.

The Zocalo is in the trees on the right. Our ship is further to the right, just outside the picture.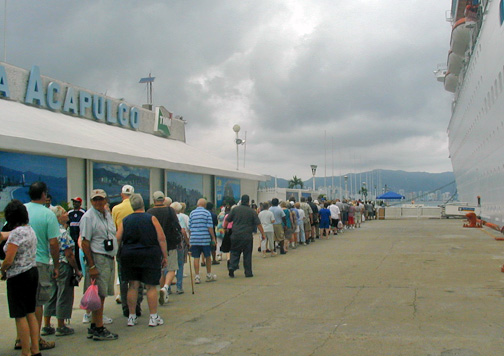 We returned to the ship around 4PM and got in the usual long line to get back on board. When we leave the ship our shipboard ID card is scanned. When we return, it's scanned again. This makes sure that everyone who debarks, rebarks. Woof!
That's Acapulco. Another hot Mexican town we don't have to revisit!