Greetings from The Villages, Florida! We have just returned from a cruise through the Panama Canal on the Royal Carribean "Monarch of the Seas". Here are a few of the sights we saw and the things we did in the 16 days we were gone.

Hope you like the pictures. I included about half of what I took. I hope there aren't too many of them.
We left The Villages early (3AM) on October 17th on a bus to Orlando with a group of 38 from The Villages RV Club. Mary Ann and I were the first to arrive at the bus stop.
These folks are Len and Peggy Holdsworth. They are the couple who set this trip up for The RV Club. As you can see we were all smiling even though we were a bit fuzzy.
We arrived at the airport in Orlando at 5AM and got a Delta flight to Los Angeles and another bus to the ship at the port of Long Beach.
This is our ship the "Monarch of the Seas". She was built in France. She's a bit old (17 years) and a little short (880 feet), and a little light (74,00 tons) by todays standards. She's short enough to just fit into the Panama Canal locks.
We found our "stateroom" (it was 8 feet wide and 12 feet deep) and I took a breather from the long trip to LA. We were on deck 6 in an outside cabin with a window.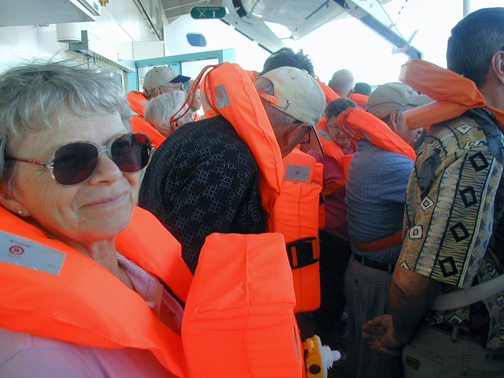 Just prior to getting underway, we had the obligitory life boat drill. Lots of confusion. I'd hate to have to actually abandon the ship at sea.
Being an old Navy guy, I couldn't resist taking a picture of the "Lane Victory". She is a WWII victory ship (like a liberty ship) and is now a historical museum ship. She runs and takes groups like Boy Scouts and old navy guys out on a short sea cruises.
We left Long Beach at 6PM PST after travelling from Florida for about 18 hours. This was our last view of the USA (Point Fermin) for 16 days.