Up and out at 9 AM on Day 13 of our cruise. Said "Good Bye" to our ever present swans. and boarded our color coded buses for Strasbourg.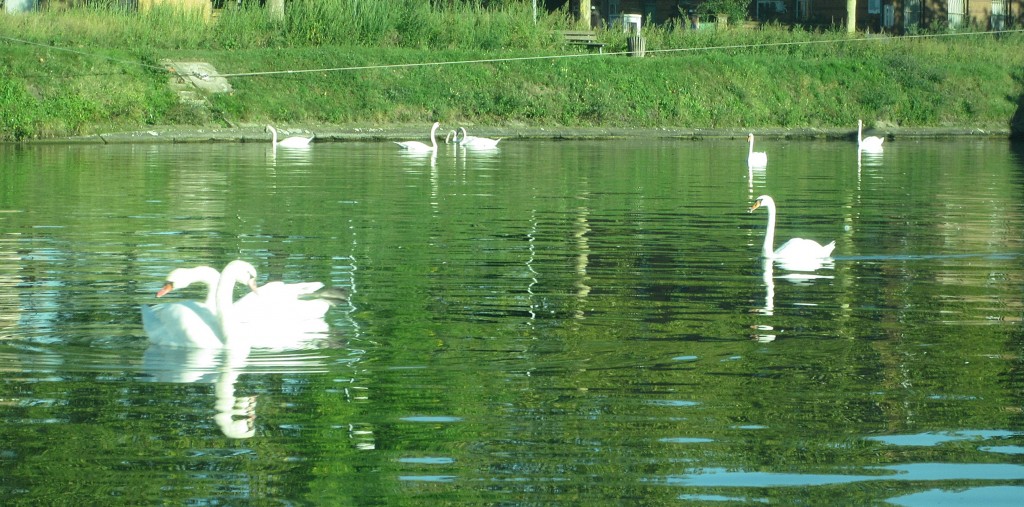 Before going downtown, we took a boat cruise on one of the Canals that circle Strasbourg.  All 130 of us got on this sightseeing boat.  Unfortunately the sound system was not good and Mary Ann and I missed a lot of the trip narrative.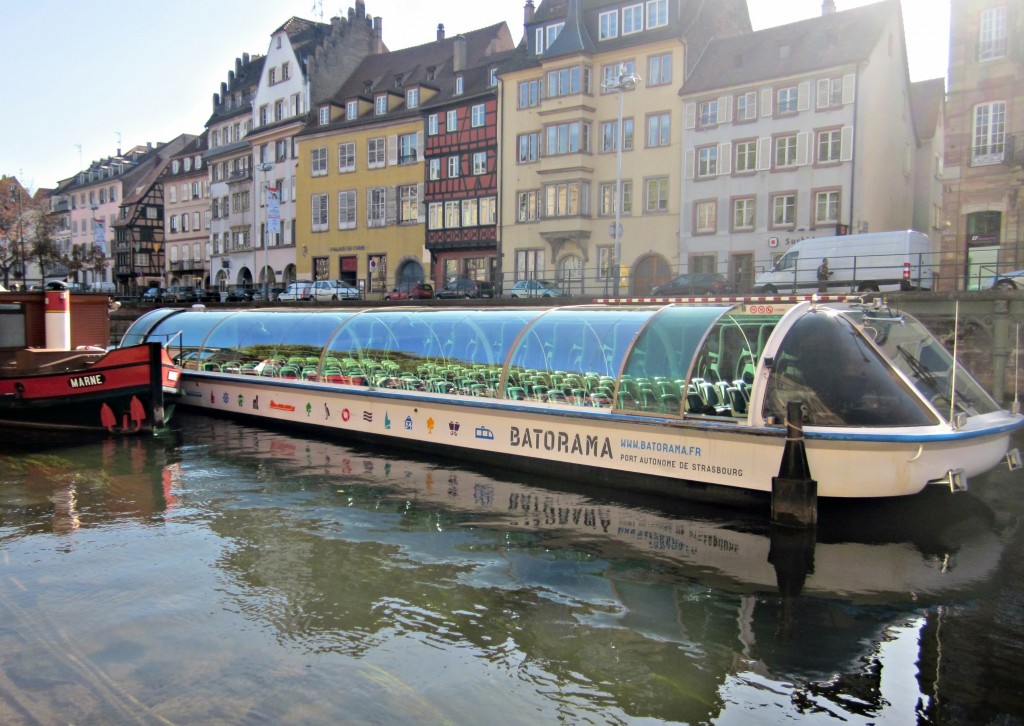 We did hear that the history of Strasbourg in the Alsace Lorraine region has been a difficult one:
:Up until 1870 The area was part of Prussian Germany. 
1871-1914: Alsace-Lorraine is part of the German Empire
1914: WWI and this area is hit hard.
1918: Alsace-Lorraine appears to be back in French hands.
1939-1942: Back to German control
1942-1945: WWII and this area is hit hard again. Still listed as German 
1945: Back to France
Sometimes the Alsacians must not have  know what nationality they were.
However, we did see several interesting sights along the canal: 
Canal house boats made from obsolete river barges. Nice digs:
Fancy canalside residences and office buildings:
Attractive water front restaurant: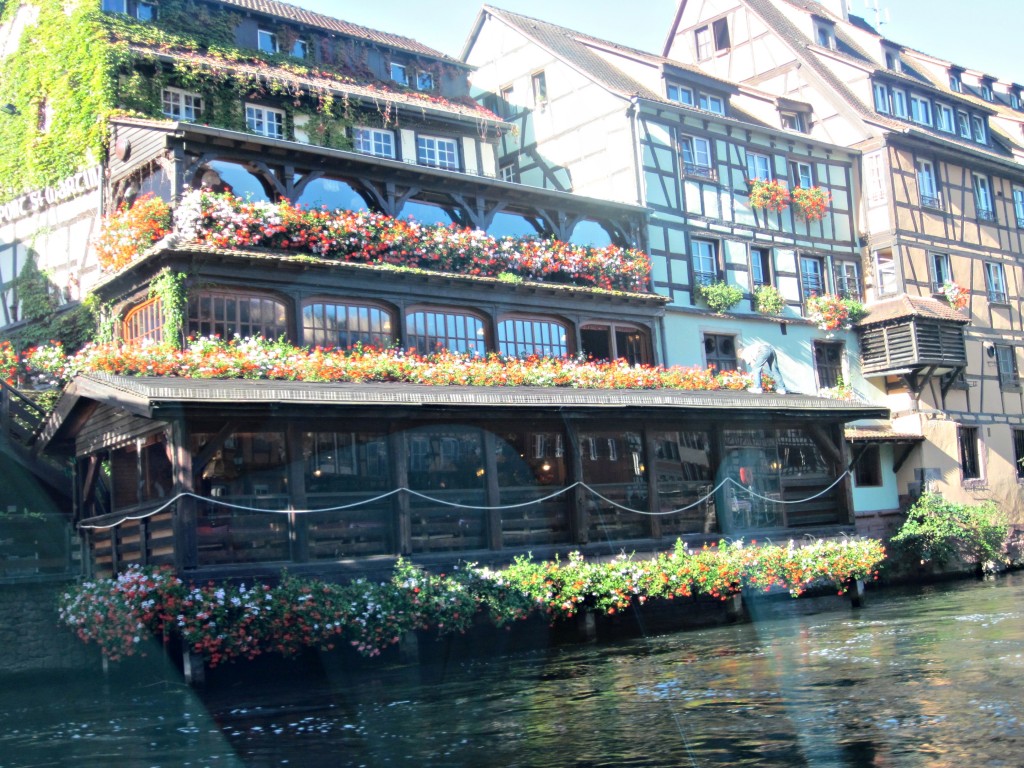 An interesting public sculpture: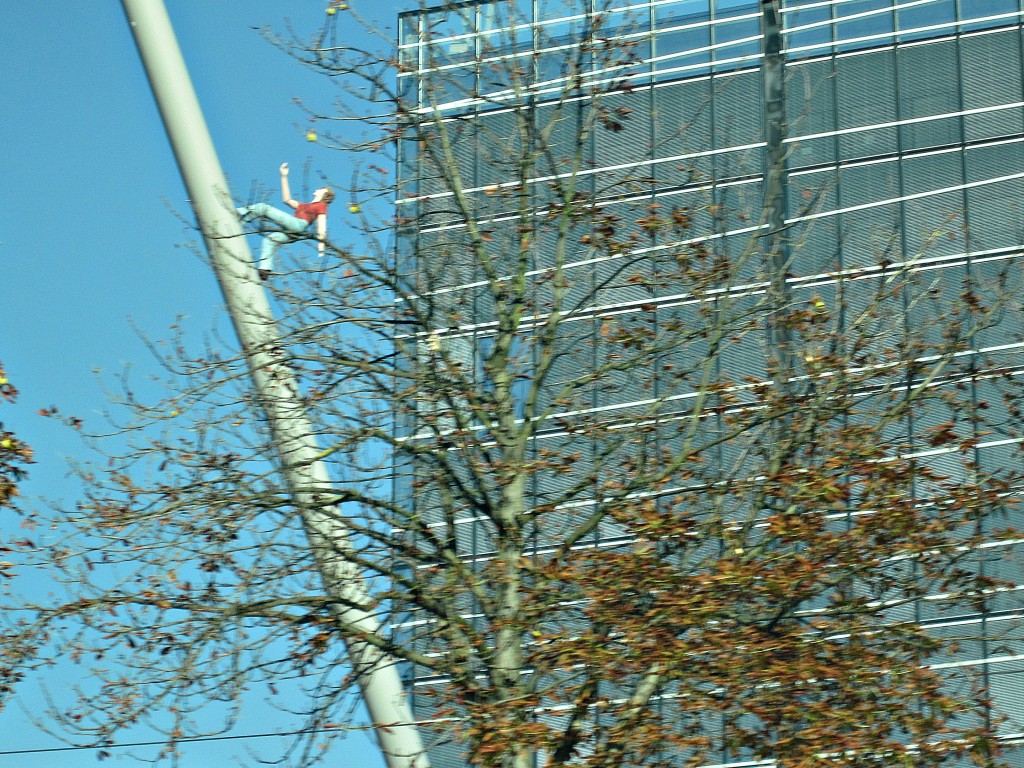 And, an occasional glimpse of the Strasbourg  Cathedral between the buildings:
We finally came face-to-face with the facade.  It was awesome! It was so huge, a photo couldn't encompass the whole front of the Cathedral. Everyone was dwarfed. It was so closely surrounded by buildings and it was so massive,it was impossibe to photograph.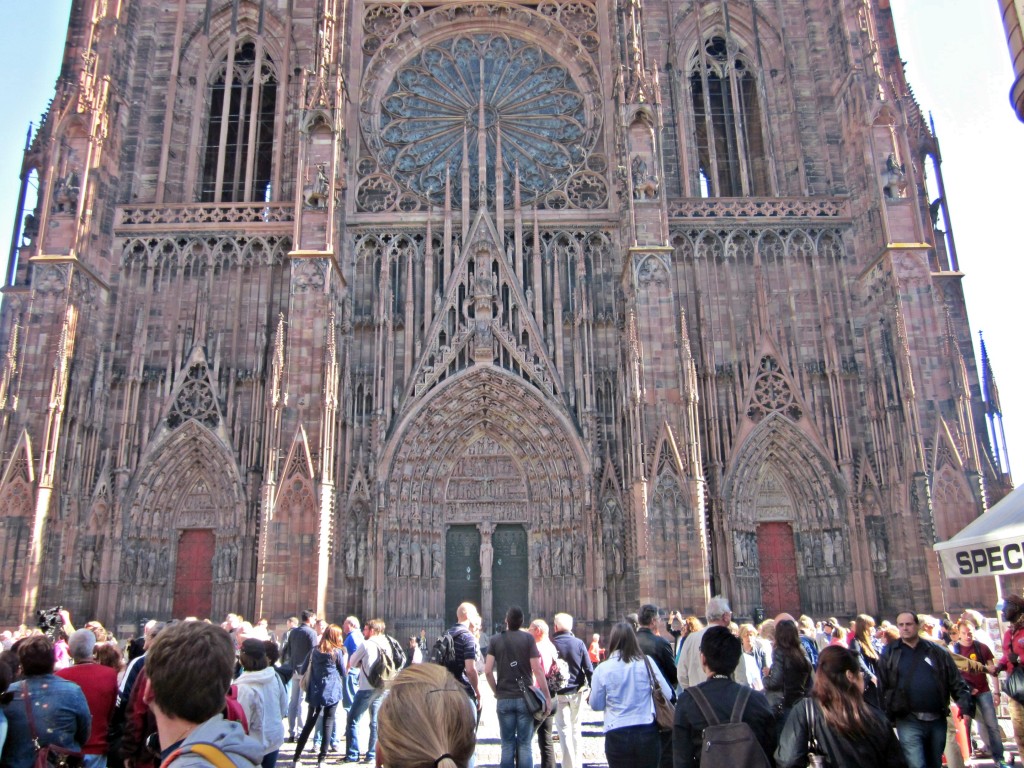 This is the Strasbourg Cathedral or the Cathedral of Our Lady of Strasbourg.  Although considerable parts of it are still in Romanesque architecture, it is widely considered to be among the finest examples of high, or late, Gothic architecture. Erwin von Steinbach is credited for major contributions from 1277 to his death in 1318.
At 466 feet, it was the world's tallest building from 1647 to 1874, when it was surpassed by the St. Nikolai's Church, Hamburg. Today it is the sixth-tallest church in the world and the highest still-standing structure built entirely in the Middle Ages. Pretty impressive, eh?!!
There are hundreds of statues in the facade. One, pointed out to us by our city guide, was "The Devil". Here he is complete with snakes for hair and toads clinging to his back.
He doesn't look like such a bad guy.  No horns,no tail, no bat wings.  just a nice tasty looking apple to offer.
The interior is equally as awesome:
 Here are some of the dimensions of the Cathedral. These numbers may seem dry. It's the feeling of hugeness that overwhelms many first  time visitors:
Total inside length: 338 ft  (longer than a football playing field)
Exterior height of central nave (roof): 130 ft
Inside height of central nave: 105 ft
Inside height of lateral naves: 62 ft
Inside height of 

narthex

: 138 ft
Width between pillars of central nave: 52 ft
Height of crossing dome: 190 ft
And, of course…