Our Dolomite Hike
Today is the day we had planned for our Dolomite Hike.  The rest of the group took the GCT Excursion to Innsbruck, Austria. Mary Ann and I have been to Innsbruck and the Excursion was very expensive.
Before we met Russ and Irv, we went to the "Thanksgiving Festival" in Bolzano's Town Square.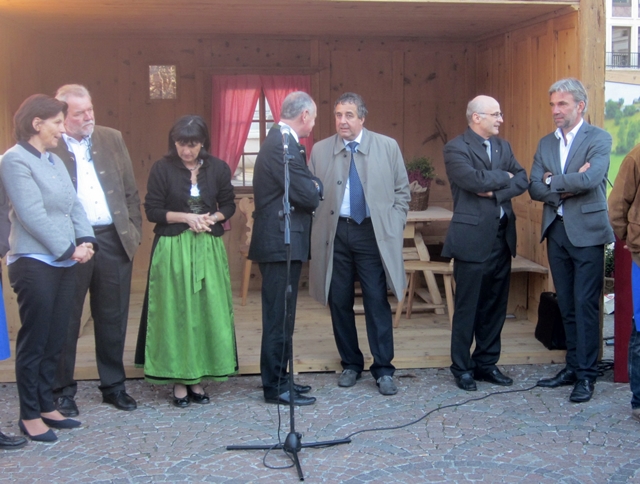 It was a typical autumn fair like we'd have in the US:  Farm animals, food stalls, music, kids, and politicians. We listened to the 'oom pah" music for a while and listened to the politicians (speaking Italian/German). We got their message so we left.
We met Russ and Irv and decided to take the cable car up Renon Mountain and hike to the town at the far end of the rail road – about 3 1/2 miles.
From the cable car you could look directly down at farms and vineyards and even my feet.
We set out on the Freudpomenade (Pleasure Path  or maybe Lovers Lane?)
We passed through farms and forest with many views of the Dolomites.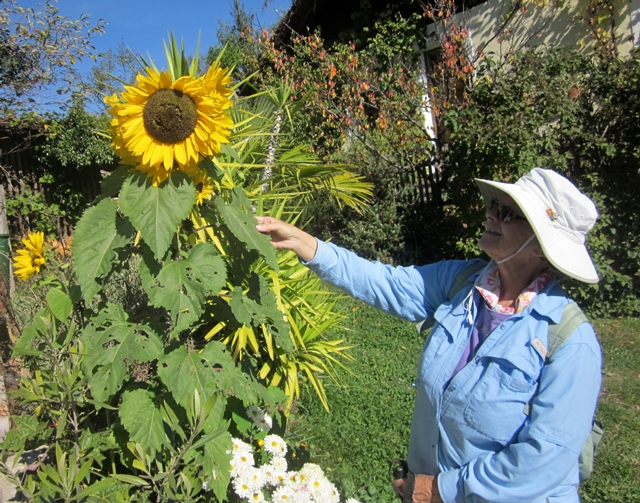 These are the 4 intrepid hikers: Me, Russ, and Irv with Mary Ann checking the flowers. Note my travel vest.  I wore it every day.
After about 3 hours of leisurely walking, we arrived at the village of Collabo with a spectacular views of Punta Santner and the Scilar plateau..
We ate lunch in a school park near the train station.  It was there that we split up.  Russ wanted to hike back to the cable car station and Irv wanted to take the train to the same spot.  I think we hiked too slow for Russ and Irv was getting tired.  Mary Ann and I wanted to hike further.
We parted ways with all agreeing that it was a great hike!
Our last good view of Punta Santner and the Scilar plateau.
Mary Ann and I wanted to see the "Earth Pyramids" from a trail in the nearby town of Longomoso. Earth Pyramids are like the  "Hoo Doos" in Bryce Canyon in Utah. They are formed when an erosion resistant rock sits on top of erosion prone lower rock. The lower rock erodes away over time leaving these strange looking formations.
Similar formations can be found in Capadocia, Turkey. We haven't been there yet.
We found the trail to the train station. (Note the symbol on the trail sign.)
After a stop at a local church in Legamos, we made it to Collobo and the train to the cable car and back down to Bolzano and our hotel at 4:30.
Mary Ann and I split up.  She wanted to do some shopping on her own.  I went to "Cespar" and bought beer and cheese for a before dinner appetizer.
That evening we had a group dinner at the hotel, packed our bags, and hit the hay.  Tomorrow we're off to Venice for one last day in Italy.
So endeth our "Bucket List" trip to the Dolomites.