Continuing Day 9, I will focus for a bit on our Ships Officers and Ship's Staff Unfortunately I don't have names of everybody, and I don't have a picture of the Deck Crew (the guys who ran the ship).  Most were Romanian or Hungarian and I couldn't spell or pronounce most of their names.  Sorry!   Also, these pictures came from our TV so they are fuzzy.
I can't say enough about the entire Staff.  They were attentive, personable, competent and always ready to please,  They were super!!!
Our Hotel Manager.  In charge of the Front Desk Staff and House Keepers
 Front Desk Staff.  The middle young lady is Suzanna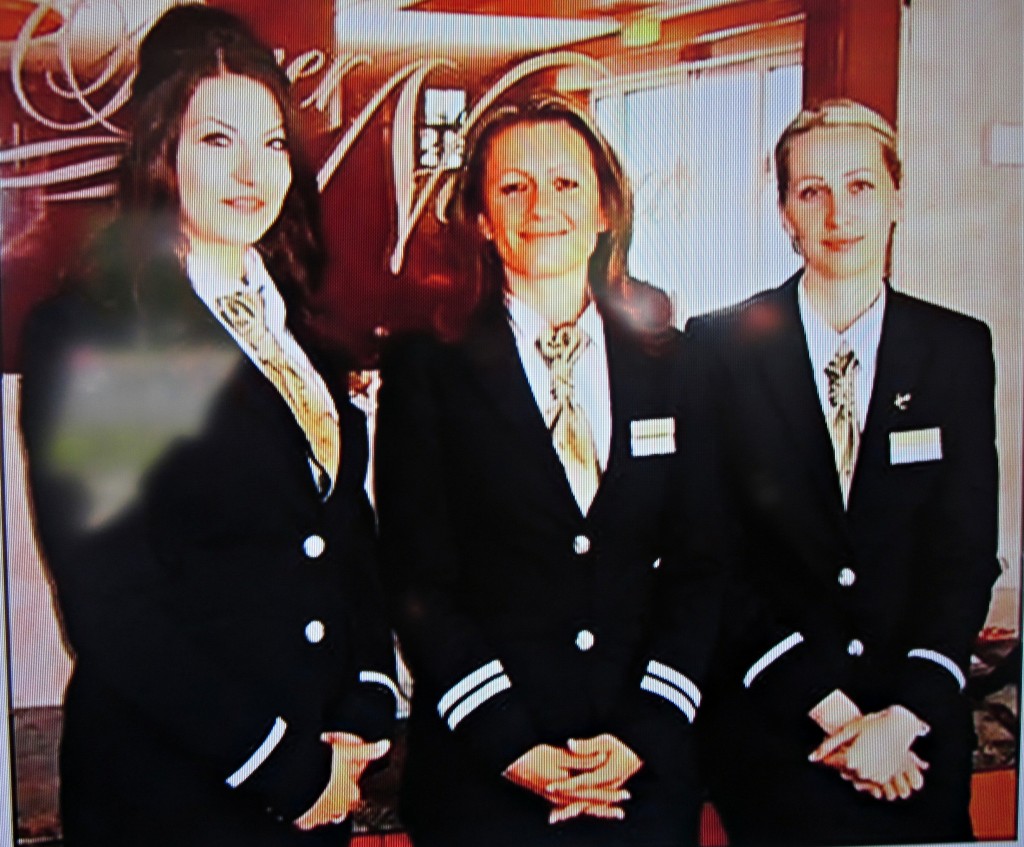 Our House Keeping Staff.  The tall guy in the back is Stefan, our room cleaner.
The Lounge and Dining Room Manager and Staff
Chef Robert (tall guy in the middle) and his talented Kitchen Staff.  Great  cooks!!
Now on to continuing with Day 9. We arrived at Rudeshiem in early afternoon and immediately debarked and boarded bises for the Schloss Vollrads Vineyards and  Winery. We were on a wine tasting tour.  We passed through beautiful vineyard country and arrived here: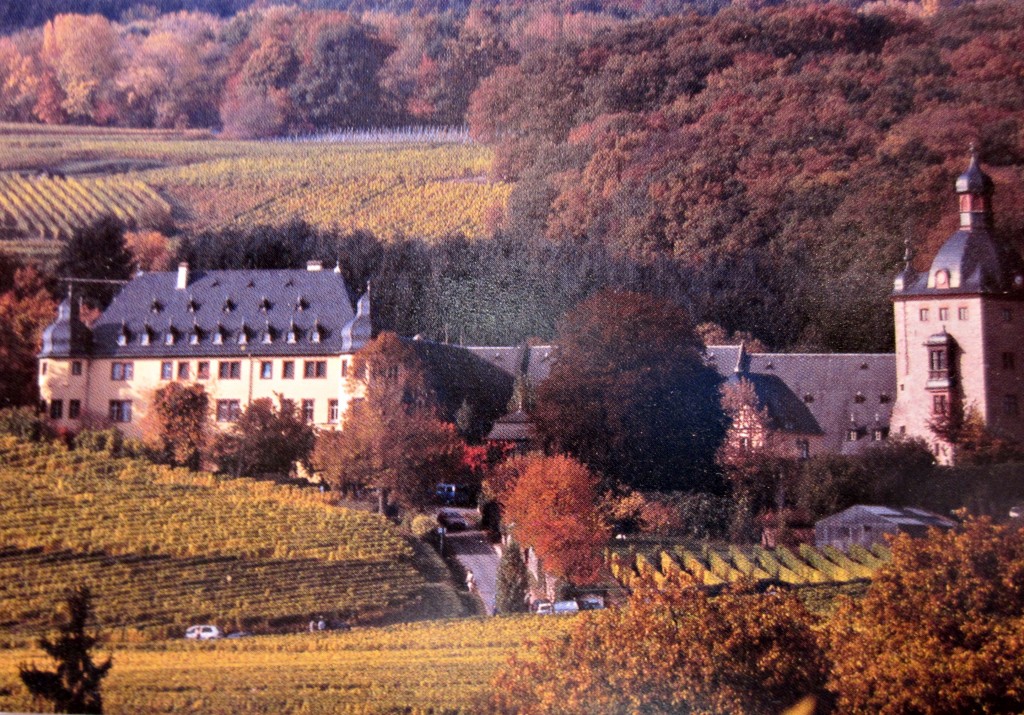 The Estate's landmark is the powerful tower. It was built on top of Roman ruins and is surrounded by an idyllic pond. The Estate had been the Greiffenclau residence since the 14th century from where they had been managing the Castle as well as the Wine Estate. Its charming location is in the midst of a beautiful countryside. It makes Schloss Vollrads to this day a popular tourist destination.
We enjoyed our first wine next to a pond (a moat around the old family castle).  Mary Ann is not a big fan of "white wines" so I had to help her with the tastings.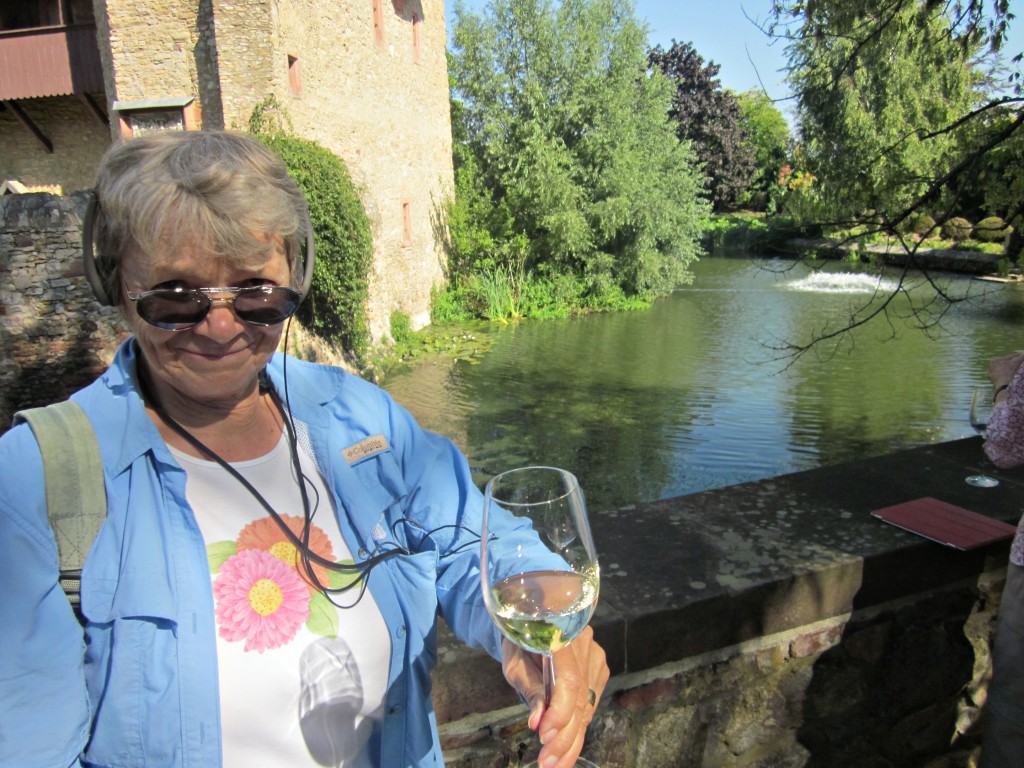 We proceeded through several rooms of the Estate tasting various wines (always dry to sweet.  Always swirling and sniffing).  They had a unique wine bottle cork: It was made of glass. I picked up a couple to add to my European glass collection – for tumbling.
We passed a lovely hedge of flowers that i had to photograph.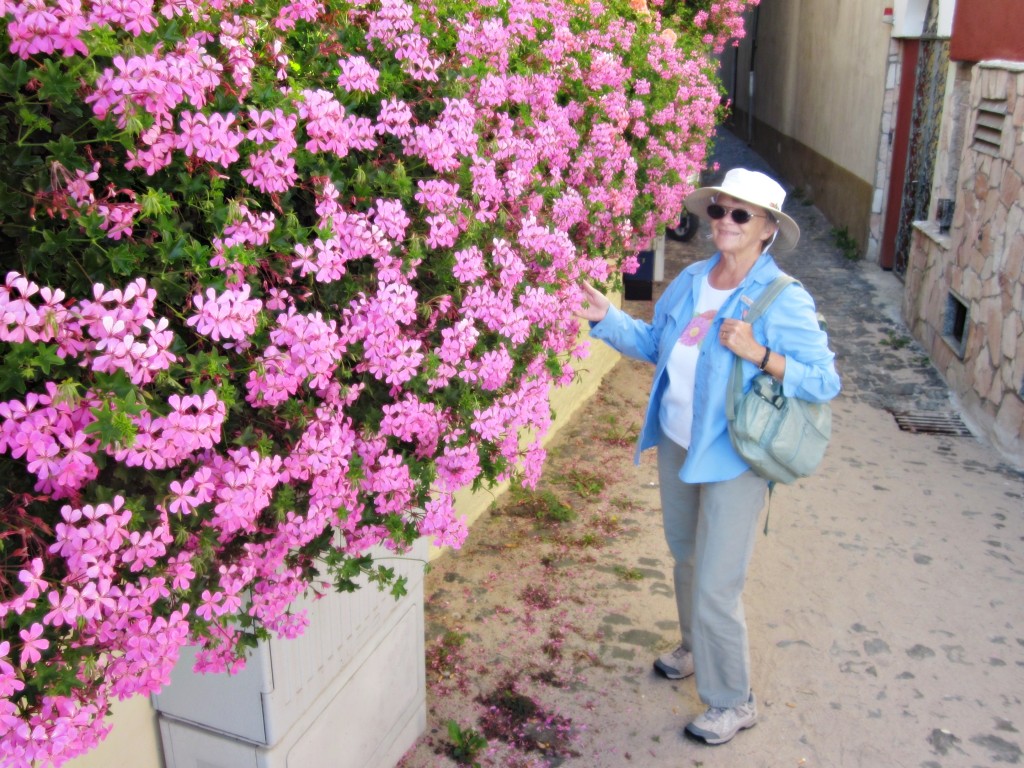 After our winery tour, we were bused back to Rudesheim, a lovely little tourist town. (Post card shot,)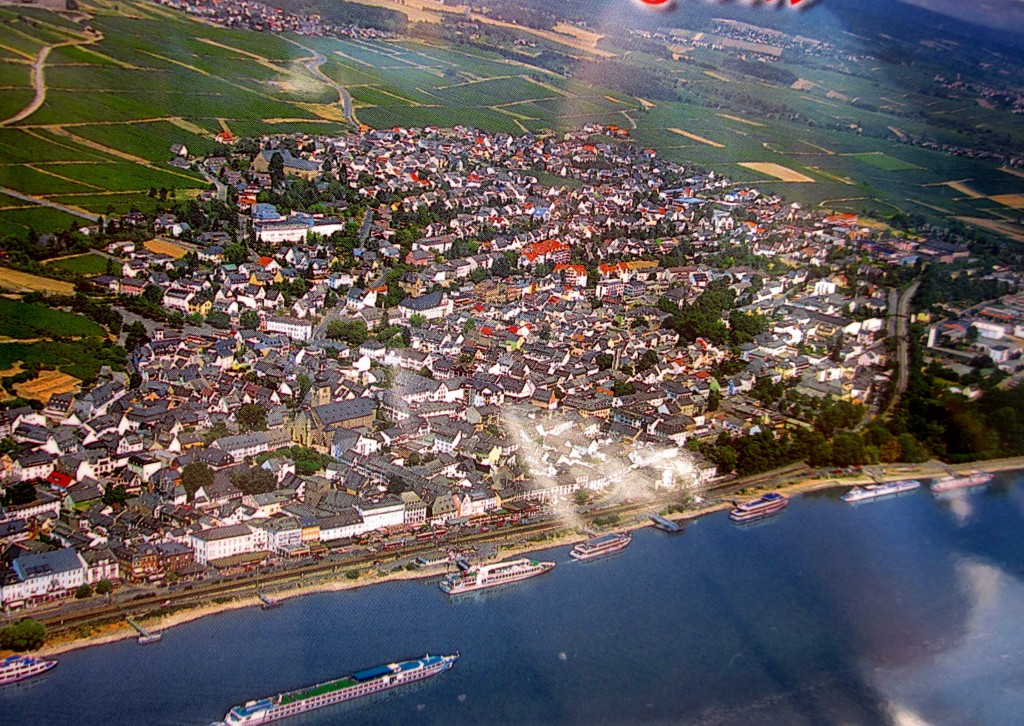 The main tourist street in Rudesheim was the Drosselgasse  (the Thrush Lane):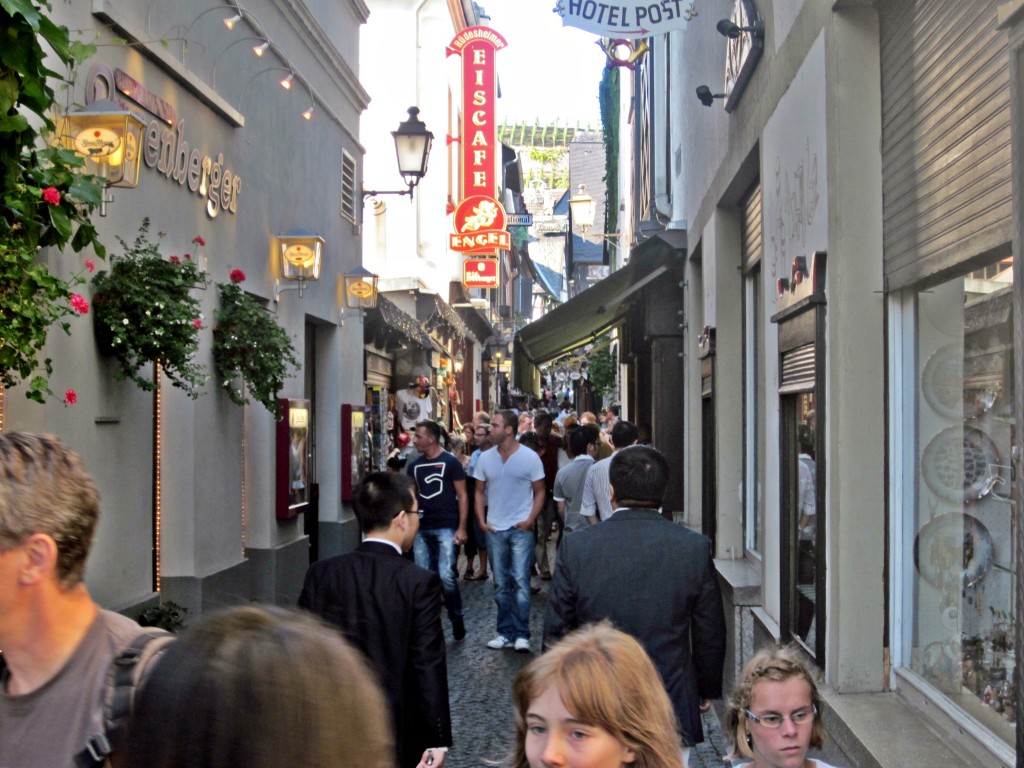 If you like to shop like a tourist with a few thousand other tourists, then this is the place. Mobbed with people. The shops were cute and the shopkeepers were friendly. 
Rudesheim has a lot of pastry and ice cream shops,  The specialty of the town was Rudesheim coffee: made with burning brandy liquor, coffee, whipped cream, and shaved chocolate. No, we didn't try one, but  at dinner that evening a copy of one was served.  It was tasty.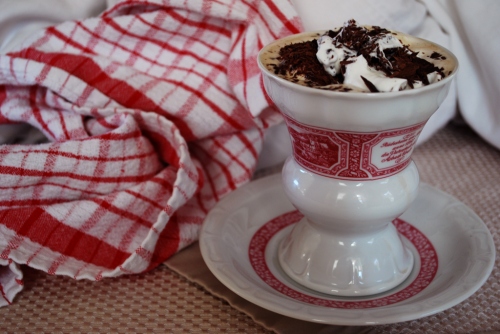 Of course, the heavy whipped cream, bittersweet chocolate shavings, and, oh yeah, the brandy, might have something to do with it's superb and caffeinated deliciousness.
We skipped the coffee and stared longingly at the ice cream, but decided against that, too.
We did see a couple enjoying the ice cream, though: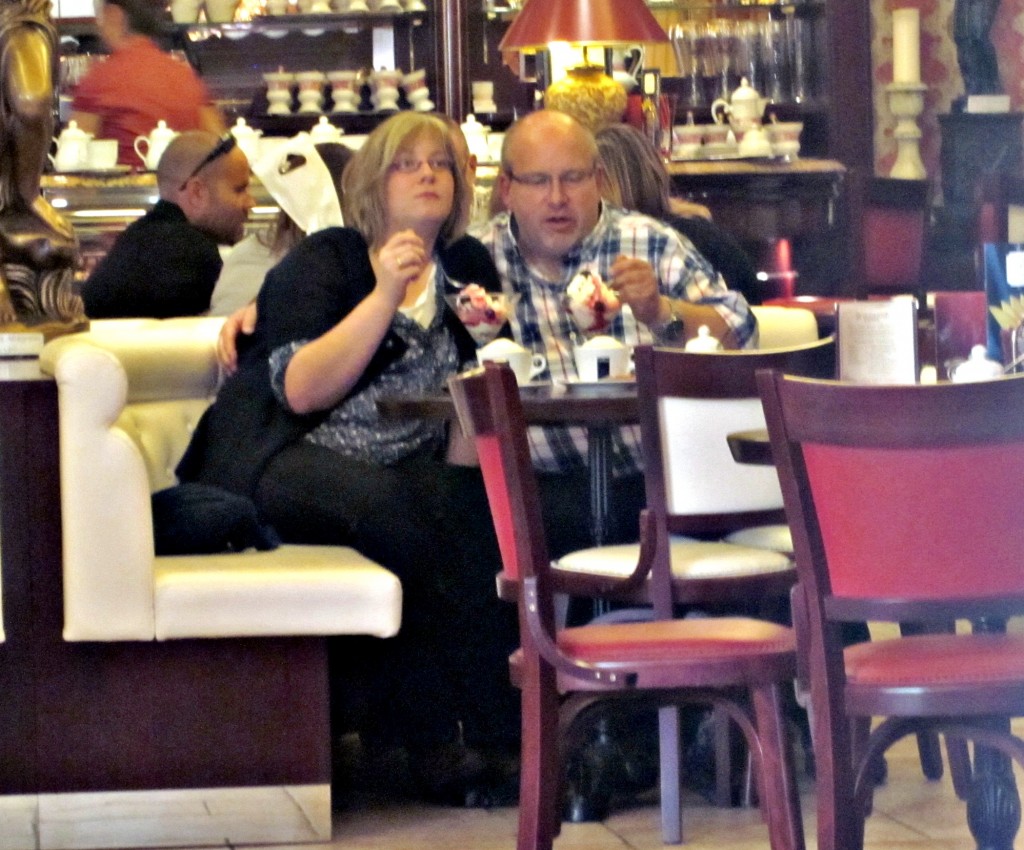 Maybe it's best we skipped the ice cream.
There were some cutesy buildings along the Drosselgasse:
The original red "half timbers" were usually painted with pig's blood. The machine in front of this shop is a cigarette vending machine.  Butts cost about 10 bucks a pack in Germany.
This guy on the left was wandering around the streets looking a little out of place.  He looked strangely familiar. 
I finally placed him.  He's Archie Thomson from London, England. He visited us once while he was on a USA bike trip. 
It looks like he switched outfits. Who Knew?
Enough about Archie.  The clock on the Rudesheim Town Hall said that we'd better head back to the ship if we wanted dinner.  You could always trust the clocks in Germany to tell the right time.  German efficiency, indeed
By the way, the dinner entree was "Crispy Roasted Duck, a la Orange, with Caramelized Grand Marnier Sauce served with Mashed Potatoes and Braised Cabbage".  Another yummy dinner!
Here is one of our many after dinner evening entertainers in the ship's lounge. She is the Florina of the duet 'Toni and Florina" She sang a medley of European and American favorites.  She was attractive and sang pretty well.
We went to bed comfortably full and fully entertained on our 9th night..
At 5 AM on Day 10 our ship departed Rudesheim for a 3 hour trip to our new mooring in Mainz, We left the ship and proceeded on foot to the center of town and the Gutenberg Museum.  Our first stop was the Cathedral.
Here are 3 views of the Cathedral exterior. One picture I took from the main Plaza. One is of a model of the Cathedral in the Plaza. The third is a post card shot of the Cathedral in 1945. During World War II, more than 30 air raids destroyed about 80 percent of the city's center, including most of the historic buildings.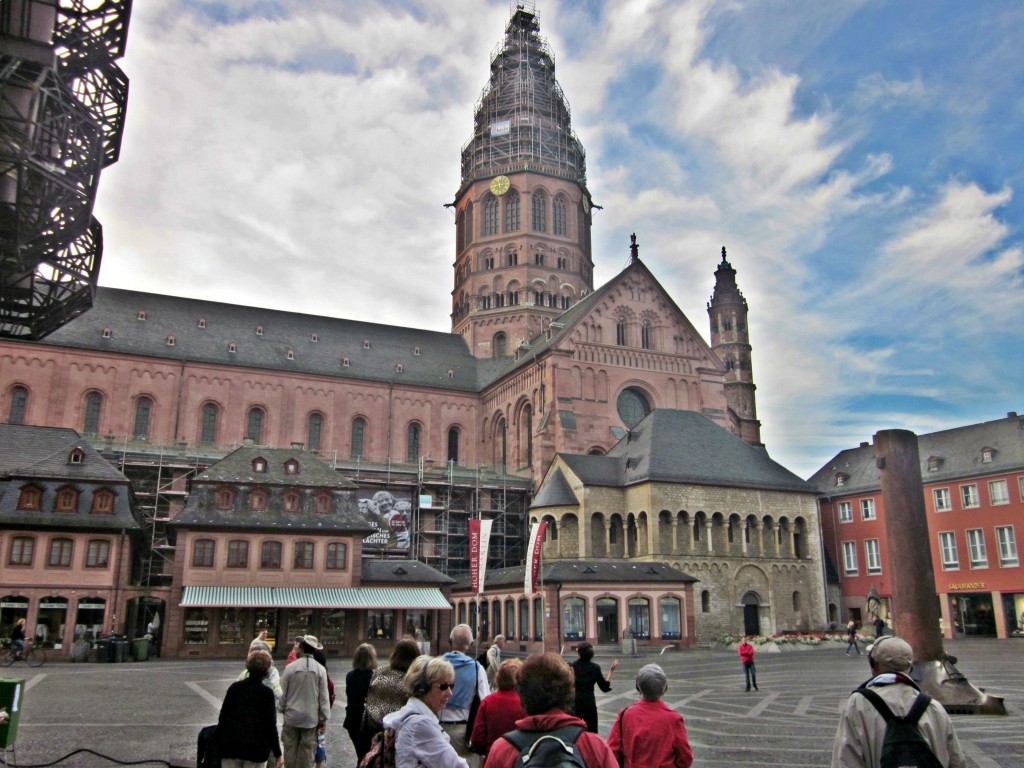 It was totally rebuilt after the war and the interior now looks like this:
You'd think the Cathedral was 500 years old.  Europe is filled with amazingly reconstructed churches, palaces, municipal buildings, museums, and  uncounted numbers of private residences.  What a job! What resilient people!
The main purpose of our Mainz trip was to visit the Gutenberg Museum. It is named after Johann Gutenberg, the inventor of printing from moveable metal type. Gutenberg was born in Mainz in 1398. Block printing  was first recorded in Chinese history, and was in use in East Asia long before Gutenberg..Gutenberg began experimenting with metal typography in a press after he had moved from his native town of Mainz to Strassburg (then in Germany, now Strasbourg, France) around 1430.
In 1455, Gutenberg demonstrated the power of the printing press by selling copies of a two-volume Bible (Biblia Sacra) for 300 florins each. This was the equivalent of approximately three years' wages for an average clerk, but it was significantly cheaper than a handwritten Bible that could take a single monk 20 years to transcribe. 
Here is a reproduction of his press.
In the bed of the press are two pages of his bible ready to be printed.
This is a photo of two actual pages from his bible:
Note: The illuminations (drawings) had to still be done by hand, but space was left to accommodate them.
Here in the plaza, outside the museum was a carved head of Gutenberg:
Also, outside the museum is a neat place to sit. On a model of one of his bibles.
We then boarded buses for a drive to Heidelberg which we had lunch at the "Hotel Ritter" This famous hotel dates from the year 1592; today, the venerable gable house of sandstone, full of fluted columns and ornately carved window blocks, is a listing building. "Persta invita Venus"(Remain Forever Unconquered, Beauty) is inscribed in gold letter on the gable of this Renaissance building.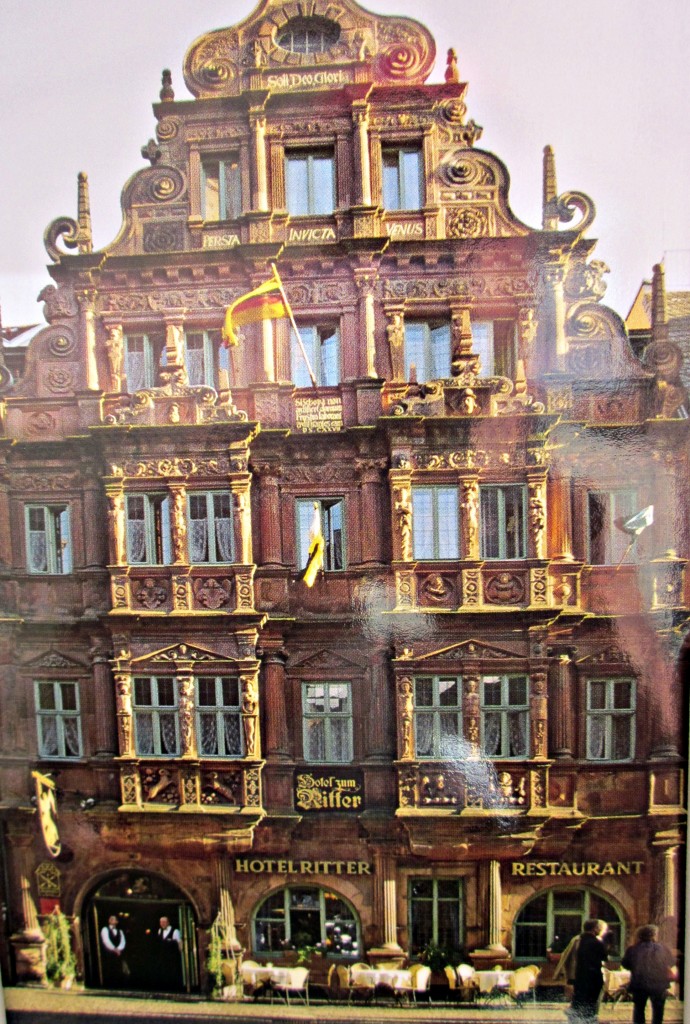 We had a delicious lunch (Pork, what else?) complete with wine here with our fellow travelers. 
We will continue our Heidelberg visit on the next page.